Is The New Barbie Movie Appropriate For Kids?
The film's rating may leave parents in a tough position.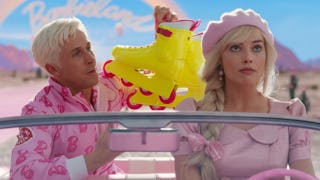 Warner Bros. Pictures
Is life in plastic really all that fantastic? It's a question the highly anticipated Barbie movie will seek to answer as the iconic doll journeys to the real world in search of her own self-discovery. The trailer hints at the struggles she will face — with her doe-eyed beau, Ken, along for the ride — and showcases many of the beloved outfits and accessories that Barbie fans, both new and old, have forever associated with the franchise.
But while the doll itself has always targeted the younger demographic, is the new Barbie movie appropriate for kids as well? Parents may be surprised to learn the film tends to skew slightly toward adults more than children... at least in certain aspects.
Although the movie is based on a toy, Barbie has been given a PG-13 rating for "suggestive references and brief language." One example that instantly comes to mind is when, in the trailer, Ryan Gosling's Ken and Simu Liu's Ken are shown posing in full fight mode and threatening to "beach" each other off. The whole interaction serves as a pretty obvious innuendo for masturbation.
While the joke could very well go right over your kiddo's head without them batting an eye, it's mature dialogue like this that most likely earned the movie a higher rating than you may have originally suspected. Yet that doesn't necessarily mean you should instantly write it off as a viewing option for younger kids.
Margot Robbie still wants your kids to see it.
Though it isn't surprising Greta Gerwig wanted to make this project for a wide range of age groups (Barbie is a multi-generational icon, after all), the actress portraying the film's titular character still wants young audiences to see it and hopes it will serve as a positive influence in their lives. "I think it's a great opportunity to put some positivity out in the world and a chance to be aspirational for younger kids," Robbie told Variety in an interview.
So, even though some of the jokes may be slightly inappropriate for certain age groups, the overall intention of the movie is to be enjoyed by the masses.
What age is appropriate to go see the Barbie movie?
Yes, a PG-13 rating is bound to give some parents pause regarding whether or not their kids should still be allowed to see the film if they're under the age of 13. This decision could be especially difficult considering how many kiddos will likely be interested in seeing such an iconic toy on the big screen. After all, a Barbie movie does sound like it should be meant for a young audience. Not to mention, the marketing for this movie has been colossal — easily making it one of the most talked-about films of the year.
Ultimately, as your child's parent, you simply have to decide what makes you the most comfortable.
The trailer can serve as a great reference point to highlight the type of adult-skewed jokes you'd be dealing with throughout the course of the movie. If none of them really raise any red flags for you, then go for it. But, by the same token, if any make you uncomfortable, you may want to reassess the situation and go from there.
At the end of the day, you know what's best for your kids. If now is not the time to see something like this, by all means, wait. As she has proven throughout her many decades of existence, Barbie isn't going anywhere.