8 Books Like Gilmore Girls Worthy Of A La-La-La String Melody
Storylines that remind us of our favorite mother-daughter-granddaughter trio.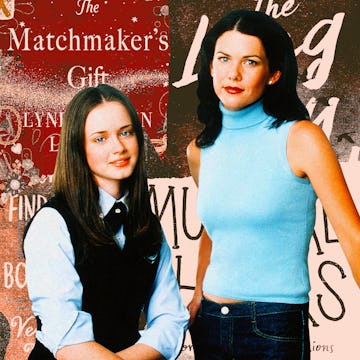 Ariela Basson/Scary Mommy; Shutterstock, Amazon
We may receive a portion of sales if you purchase a product through a link in this article.
It's pumpkin spice season. It's crunchy leaf season. It's Gilmore Girls rewatch season! Much like Richard and Rory Gilmore, our fearless bookworm leaders, our love for reading never wavered during the swampy summer months. Alas, there's something indescribable about reading whilst enjoying the crisp morning air with a cup of hot coffee. Or, as Lorelai Gilmore calls it, "Coffee, coffee, coffee!"
As you embark on your third, fourth, or fifth rerun of the beloved TV series, here are a few Gilmore Girls adjacent titles to round out your fall TBR pile. The books on this list feature complex mother-daughter relationships, characters with an affinity for reading, small-town charm, and unexpected love interests. Throw on your favorite chunky cable knit sweater, pour a generous cup of joe, and hunker down with one of these reads the next time you're missing Stars Hollow.
1. Mother-Daughter Murder Night by Nina Simon
Whether you're an Emily, Lorelai, or Rory, you'll find a kindred spirit in the three generations of Rubicon women, made up of Lana and her granddaughter, Jack, and Jack's mother, Beth. Much like Emily, Lana has the tenacity of a stubborn bull, so when her innocent granddaughter becomes a prime suspect in a local homicide case, she takes it upon herself to set Jack free. Meanwhile, Beth is trying to grapple with the news of her mother's life-threatening diagnosis.
2. Lovelight Farms by B.K. Borison
Set in a cozy, small East Coast town known for its hazelnut lattes (the Gilmores would have to attest), Lovelight Farms follows a Christmas tree farm owner who enters a social media contest to win $100,000 in hopes of saving her business from bankruptcy. With her best friend playing the role of faux boyfriend to up the farm's romantic charm, Stella's happy ending begins to take shape in more ways than one.
3. The Matchmaker's Gift by Lynda Cohen Loigman
Rory may have made some questionable decisions during her college years (IYKYK), but she's whip-smart and has the persuasion skills of a politician. So you could see how, in another life, she would have made an excellent attorney like the novel's protagonist, Abby. When Abby comes into possession of her late grandmother's matchmaking journals, her life as a successful divorce attorney suddenly makes a little less sense.
4. How to Find Love in a Bookshop by Veronica Henry
Did you see the title? We don't need to explain why this novel belongs on this list. But in case you aren't convinced, here's what you need to know: A struggling bookshop owner fends off hungry property developers as she looks for ways to save Nightingale Books from going under. Simultaneously, her connection with one of her favorite customers (a hybrid of Dean and Jess, if that's even possible) grows deeper.
5. Musical Chairs by Amy Poeppel
We're trading Miss Patty's School of Ballet for a chamber group called the Forsyth Trio; Juilliard is Yale; and Luke and Lorelai now go by Bridget and Will. But do not worry! We are not leaving behind the small-town charm of Stars Hollows. Set in Connecticut, Musical Chairs is about two loyal (and single!) best friends who offer their chamber group as entertainment for a local wedding in hopes of garnering some high praise and recognition. Except there's a lot more than just their group's reputation on the table. It's Bridget's father's wedding, and Bridget and Will may have fibbed about a certain musical somebody attending the event as well.
6. Part of Your World by Abby Jimenez
In this gender-flipped retelling of Rory and Logan's love story, an ER doctor named Alexis finds herself at a fork in the road. She's expected to carry on her family's legacy in the medical field, but she's fallen for a humble carpenter whom she knows her parents would disapprove of. Their connection is too good to be true, and Alexis' family will see to it that it doesn't trespass into their lavish lifestyle and public image.
7. The Bad Mother's Handbook by Kate Long
Lorelai Gilmore and Charlotte Cooper have a lot in common. For instance, both of their uptight mothers are more than less enthused over the news that they are unexpectedly pregnant at 17 — and no, the father isn't in the picture. Frazzled over her daughter's frivolous situation, Karen prepares her daughter for motherhood while simultaneously trying to keep the relationship with her own ailing mother intact.
8. The Long Way Back Home by Nicole Baart
Charlie and Eva are more than just mother and daughter; they're best friends. When Eva disappears days before her high school graduation, Charlie races against the clock to locate her daughter's whereabouts. Albeit, fame comes with a price, and the cards flip on Charlie. One half of their mother-daughter influencer account, Eva has plenty of fans who allege Charlie is the reason for her daughter's disappearance.