10 Books That Are As Sweet As Ted Lasso's Biscuits
*Immediately changes book club name to Diamond Dogs.*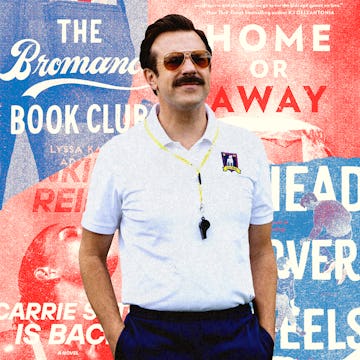 Ariela Basson/Scary Mommy; Apple TV+, Ballantine Books, Berkley, Simon & Schuster
We may receive a portion of sales if you purchase a product through a link in this article.
Ted Lasso may be over, but our obsession with the Diamond Dogs and Jamie Tartt's theme song is not. The Apple TV+ comedy follows NFL-turned-Premier League soccer coach Ted Lasso (Jason Sudeikis) and his assistant Coach Beard (Brendan Hunt) as they attempt to turn AFC Richmond into a winning team despite having no soccer coaching experience.
Along the way, viewers get to know some of the team's more influential players like Roy Kent (Brett Goldstein), Colin Hughes, and Sam Richardson, as well as sports journalist Trent Crimm and Richmond's owner, Rebecca Welton. There's also Keeley Jones, the team's publicist and biggest heartthrob. All of this to say, the finale of Ted Lasso left a gaping hole in our hearts, and we're going to fill the biscuit-shaped void the only way we know how: with books!
On TikTok, fans are busy deciphering easter eggs of what the Ted Lasso spin-off will be about (please let it follow AFC Richmond's first women's soccer team). Meanwhile, we're on the hunt for books like Ted Lasso because the only real way to cure a TV hangover is to read a book with similar qualities. Now, these novels don't hold the secret formula to Ted's famous biscuits, but they do include plots and characters that remind us of our favorite Ted Lasso moments. Whether you're missing Roy's witty one-liners or Rebecca's sage advice, these books are sure to rally at least one "Oi!" out of you.
Looking for more book recommendations? Take a peek at our 2023 Summer Reading List and this list of short books — perfect entertainment for your flight to London to visit May's pub. Yes, it really does exist!
1. Bromance Book Club by Lyssa Kay Adams
Gavin Scott could use the help of the Diamond Dogs. His ignorant reaction to his wife's bedroom secret (she's been faking the Big O) is the final straw for Thea: She wants a divorce. Besides himself, Gavin joins a secret community of guy bookworms who read romance novels called the Bromance Book Club. With the help of the group's smutty reading list and his new friends' advice, Gavin attempts to salvage his marriage and sex life.
2. I Love You, I Hate You by Elizabeth Davis
Victoria and Owen could learn a thing or two from Rebecca and Sam — and vice versa. In the courtroom, Victoria and Owen loathe each other's existence, but little do they know that the person they spend all their waking hours talking to online is actually the one person they can't stand to be around the most. Victoria, meet Owen, aka Luke. Owen, meet Nora, aka Victoria. They've fallen for their arch-nemesis; what's the worst that could happen?
3. Head Over Heels by Hannah Orenstein
What do Roy Kent and Avery Abrams have in common? They're both retired athletes coming out of the woodwork to coach the next generation of skilled players or, in Avery's case, gymnasts. Head Over Heels is very much a story about redemption, love, and perseverance — but its storyline also reflects what was happening in the world when it was written, a world in which a former beloved gymnastic doctor was found guilty of assaulting his patients. And in case you are wondering, yes, there is a Keeley in this story for Avery, too.
4. Out of His League by Caroline Richardson
When Gretchen Harper strikes up a conversation with pro baseballer Joshua Malvern outside their flight gate, the last thing she expects is for Joshua to upgrade her seat to his row in first class, let alone go home with him later that night. A one-night stand with a fan wasn't on Joshua's travel day itinerary, but could Gretchen be his new lucky charm? Only time will tell if their romance has home-run potential.
5. Icebreaker by Hannah Grace
Anastasia will stop at nothing to earn a spot on Team USA's figure skating team, even if it means begging her college's hockey team captain, Nate Hawkins (also known as the biggest pain in Anastasia's a**), to be her partner when hers drops out. With their collegiate careers on the line, there's no time for distractions. It's a good thing Anastasia and Nate can't stand to be in each other's presence, right?
6. The Fastest Way to Fall by Denise Williams
The folks at AFC Richmond are pros at mixing business with pleasure (Keeley and Roy, Jaime and Keeley, Rebecca and Sam, need I go on?), and work friends Brita and West in The Fastest Way to Fall are about to find out what happens when you bring bedroom antics to the workplace.
7. Beartown by Fredrik Backman
If you prefer hockey to soccer (or are a big fan of Fredrik Backman), add the Beartown series to your TBR list. Like Ted Lasso, Beartown is a trilogy. The book is set against a forest lake and follows a small town's junior ice hockey team. Along the way, readers are introduced to pivotal leaders in the community and uncover the trials and tribulations that rumble through the outskirts of town.
8. Desire or Defense by Leah Brunner
Mitch is a self-described villain. He's just been put on a 15-game suspension from the NHL after letting his anger get the best of him on the ice. To fill his time (and better his character), Mitch's manager volunteers him to coach a youth hockey team. This is where he meets Andie or, more like, pisses Andie off because he's just insulted her younger brother in front of the whole team — including Andie. Mitch's defenses are up, but his desire to win over Andie, as well as his fans, may be enough to melt his icy heart.
9. Carrie Soto is Back by Taylor Jenkins Reid
TJR's latest masterpiece has the exact makings of a Ted Lasso episode: love, comedy, grief, and perseverance. Fresh out of retirement, Carrie Soto is ready to return to the tennis court and prove to fans she's still the athlete who won 20 Grand Slam titles many moons ago. The media has only gotten more vicious since she stepped away from the game, and her competition has nearly doubled. There's also the guy who broke her heart. To call her resurrection a comeback would be an understatement.
10. Home or Away by Kathleen West
Leigh and Susy always dreamed of repping Team USA Hockey at the Winter Olympics together, but when Leigh doesn't make the team, not only do her dreams of being a hockey superstar die, but her friendship with Susy does as well. Fast forward 20 years, Susy gets thrown back into Leigh's orbit when their kids join the same hockey league. We don't know what's more awkward: this reunion or Nate's return to AFC Richmond.