10 Super Short Books (300 Pages Or Less) Perfect For A Plane Ride
Quickie books = in-flight entertainment.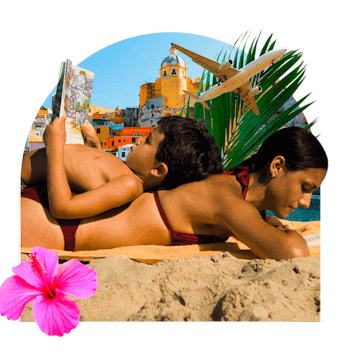 Emma Chao/Scary Mommy; Getty Images
If you don't check the page number on the last page of a book, you're lying. You're also lying if you say a book's page count doesn't influence whether or not you'll start it next (you probably also say you don't judge a book by its cover). The fact of the matter is, a novel's total page count does matter — and that's no diss to longer tomes. But sometimes, or a lot of times, bookworms aren't in the right mindset or environment to hunker down with a 400+ page book. It's similar to how sometimes you may not be in the mood to read a love story or a creepy thriller that takes place at an abandoned cabin in the woods.
Oftentimes, it comes down to circumstance. You may be searching for a short book that you can read from start to finish on a plane ride or a novel you can breeze through in a weekend before you tackle the busy week ahead. I know for me, personally, I sometimes don't have the attention span for a lengthy read. As the end of the year rolls around, you may be looking for short books to help you reach your Goodreads goal.
How many pages define a short book? It's up to you! But for our list of short books, we found titles with 300 pages or less. You can binge these books on a long flight, near a pool, or over a weekend. From thrillers to romances to diverse storylines, short books come in all shapes and sizes, literally!
So, without further ado, here are 10 short books to read the next time you're in a pinch.
The Rachel Incident by Caroline O'Donoghue
With a mad crush on her married professor, Rachel enlists the help of her best friend and roommate to woo Dr. Fred Byrne to the back stacks of their local bookstore. Fred may have a wandering eye, but it's not Rachel who's captured his attention. Caroline O'Donoghue weaves a complex tale of unrequited love that strings together pals Rachel and James, the effortlessly handsome Dr. Byrne, and his high-brow, traditional wife.
The Three of Us by Ore Agbaje-Williams
The Three of Us is a 175-page introspective journey of one of the most complex love triangles one may ever have: between a wife and her husband and best friend. It's told in three parts, from three POVs — the wife, the husband, and the best friend — and over the course of 24 hours. Suffice it to say, it's one wild, funny ride.
The Opportunist by Elyse Friedman
Long estranged from her elitist, pompous family, the last thing Alana wants to do is fly to her father's private island to break up his inappropriately-deemed romance with his nurse, who's nearly 50 years his junior. When her brothers offer a hefty sum to rid their father's gold digger for good, Alana feels cornered to accept. As a single mother with a low-paying job and a child with muscular dystrophy, she could use all the money she can get. However, a few hours into her visit with her future stepmother, Alana realizes she's bitten off more than she can chew.
Now Is Not the Time to Panic by Kevin Wilson
"The edge is a shantytown filled with gold seekers. We are fugitives, and the law is skinny with hunger for us," reads an eye-popping, anonymously signed poster. The small town of Coalfield is in a state of panic thanks to Frankie Budge and Zeke, the artistic masterminds who've been secretly planting pop-up art in public gathering areas. Then, 20 years in the future, a journalist tracks down Frances Budge and requests an interview with her about the 1996 Coalfield Panic.
Between Two Strangers by Kate White
Imagine this: The dude you had a one-night stand with a decade ago dies and randomly leaves behind an exorbitant amount of money in your name. Now, you've got the guy's heartbroken widow knocking on your door demanding answers — and accusing you of having an affair with her late partner. You can see the revenge pooling in her eyes. It's up to you to figure out why Chris Whaley left you a fat check. What's the catch?
Berlin by Bea Setton
Written in vignettes, Berlin is a 256-page rollercoaster about a young woman's attempt at reinvention in a foreign country. In the midst of her travels, Daphne realizes this next chapter of her life is gaming up to be worse than the last.
Roses in the Mouth of a Lion by Bushra Rehman
A spot at one of Manhattan's most prestigious high schools opens the eyes, ears, and mind of Razia Mirza from Queens. There, she can be whoever she wants to be and explore new ideas, dreams, and relationships. When an Aunty in her close-knit Pakistani-American community catches Razia with another woman, Razia's brief taste of independence catches fire, burning her surrounding relationships in the process.
What Happened to Ruthy Ramirez? by Claire Jimenez
In this riveting debut, a Puerto Rican family from Staten Island pile into a car and hit the road after seeing who they believe to be their long-lost sister on a reality TV show. It's been 12 years since Ruthy disappeared at the age of 13. Was she kidnapped? Did she voluntarily leave? There's only one way to find out: road trip to the show's filming location and confront the maybe-Ruthy herself.
Social Engagement by Avery Carpenter Forrey
A deep dive into modern wedding culture and social media gratification, Social Engagement follows newlywed Callie Holt over one wedding-filled year as she unearths the good, the bad, and the ugly of married life. Seven hours after saying "I do," Callie knows her marriage has already gone to sh*t. And the more weddings Callie attends, the more she's convinced everyone else is putting on a facade, too — but they'd never dare post about it for everyone to see.
How Not to Drown In a Glass of Water by Angie Cruz
About 200 pages in length, How Not to Drown In a Glass of Water is about Cara Romera, a 56-year-old Dominican immigrant who loses her job at a lamp factory amidst the 2008 Great Recession. Cara begins speaking with a job counselor, but their conversations quickly take a more personal turn as Cara shares her life story throughout their 12 sessions.