Brandi Carlile's Wife And Kids Introduced Her Grammy Performance With An Adorable Tribute
The singer/songwriter then sang her hit song, "Broken Horses."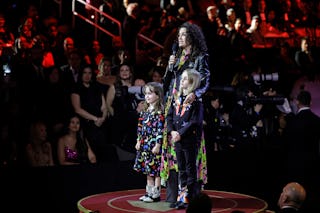 Kevin Winter/Getty Images Entertainment/Getty Images
It was an adorable family affair for Brandi Carlile at the 2023 Grammy Awards! For this year's award show — honoring some of the best in music in the past year — the award show had loved ones introduce those who were performing that night to give the show a more personal feel.
In one of the sweetest moments, Brandi Carlile's wife and kids introduced the singer before her chill-inducing performance of her hit song, "Broken Horses."
Catherine Shepherd and the couple's two daughters — Evangeline, 8, and Elijah, 4 — stood on a small side stage and reflected on just how special and important folk rock singer is to their life.
"Millions of viewers watching tonight fell in love with this next performer four years ago when she took the Grammys stage for the first time and delivered one of the most iconic performances in Grammy history," Shepherd shared, referring to Carlile's electrifying performance of her song "The Joke".
"I was lucky enough to marry her more than a decade ago, so I was way ahead of you," Catherine joked. Carlile and Shepherd have been married since 2012.
She went on to gush over her wife, while the couple's adorable daughters stood by with smiles on their faces.
"It means the world to me to stand here tonight with our beautiful daughters by my side and introduce, in our humble opinion, one of the greatest, most authentic artists and human beings on the planet," Carlile's wife said to the crowd.
"Here to rock our faces off with 'Broken Horses,' from the Grammy-nominated album In These Silent Days, my wife and their momma, Brandi Carlile!" Catherine concluded with her daughters joining in on the mic to shot their mom's name.
Before she went on to perform, Carlile had already won two Grammy awards for "Broken Horses": best rock performance and best rock song.
Starting a family wasn't easy for Carlile and Shepherd. The couple used IVF treatments to get pregnant, harvesting Carlile's eggs for Shepherd to carry.
Carlile told PEOPLE that she struggled at first when it came to who was going to carry the baby.
"I'm hoping people see through my story that there's no right or wrong way to evolve into a parenting role in either heterosexual or same-sex relationships," she said at the time.
"There are different, complicated dynamics, and there are many ways to feel. The more we talk about it and normalize it, the easier it is to understand that your parenting journey is custom. It really is your own."
Now that the kids are older, Carlile admitted that she has more to worry about than ever.
"I hesitate to say things like, 'We all worry all the time — that's what moms do,'" she said. "Because some moms are like, 'Oh, am I s—ty because I don't worry?' But no, I worry all the time that I'm doing it wrong or that I'm depriving them of something or that they're getting too much or that they won't have the life skills that I have because they're not poor or because they've only ever lived in one house or because they don't understand that things are hard in the world. We don't know how to tell them that yet."
Congrats to Carlile on her well deserved Grammy awards!