adding to good reads ASAP
Britney Spears' Highly Anticipated Memoir Is Coming This Fall
'The Woman in Me' will be available on Oct. 24, 2023.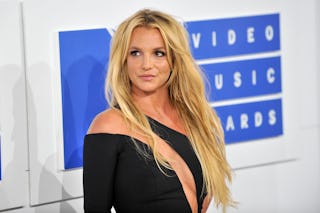 Allen Berezovsky/WireImage/Getty Images
We may receive a portion of sales if you purchase a product through a link in this article.
Britney Spears has announced that she is finally ready to tell her own story, in her own words. The pop icon revealed on Instagram that her memoir entitled The Woman in Me will be available this fall.
According to People, Spears' personal story was in a bidding war among multiple publishing houses. However, Gallery Books, an imprint of Simon & Schuster, acquired the memoir.
In March 2022, People reported that the singer had signed a $15 million deal with Simon & Schuster for the tell-all.
The book is a "brave and astonishingly moving story about freedom, fame, motherhood, survival, faith, and hope," according to the book's dedicated website.
"Britney's compelling testimony in open court shook the world, changed laws, and showed her inspiring strength and bravery," Jennifer Bergstrom, Gallery Books Senior Vice President and Publisher, told People.
"I have no doubt her memoir will have a similar impact — and will be the publishing event of the year. We couldn't be more proud to help her share her story at last."
The highly-anticipated memoir comes on the heels of Spears, 41, fighting a court-ordered conservatorship, which had been in place for over 13 years.
Spears gave a jarring and eye-opening public testimony in June 2021 asking a Los Angeles judge to end the arrangement, which had her father in charge of her estate, personal life, well being, etc.
Spears told the court in 2021, "I just want my life back."
The conservatorship was finally terminated on Nov. 21, 2021.
The Woman in Me "reveals for the first time [Spears'] incredible journey—and the strength at the core of one of the greatest performers in pop music history."
The memoir, "written with remarkable candor and humor" will tell the story of Spears' journey "on her own terms" with the help of the "enduring power of music and love."
Monday night, Spears teased the big book news in one of her now-infamous bikini dance videos alongside a caption that read, "Great news coming tomorrow [sneaky eye, shh and speak no evil monkey emoji]… I'm so excited… can't wait to share this new with you all!!!!"
Though this was not the first time Spears had hinted at the idea of a tell-all memoir.
Last April, Spears wrote a lengthy, now-deleted Instagram post and said, "Well I'm writing a book at the moment and as it's actually healing and therapeutic … it's also hard bringing up past events in my life … I've never been able to express openly !!! I can only imagine that I do sound childish but I was extremely young when those events took place … and addressing it now … I'm sure it seems irrelevant to most and I'm completely aware of that !!!"
Preorder the book here.