Brody Jenner Drinks His Fiancé's Breast Milk With Coffee In New Video
He ran out of almond milk.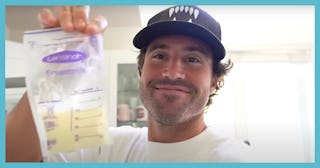 Brody & Tia / YouTube
Reality TV star Brody Jenner is going viral for admitting that after he ran out of almond milk for his morning latte, he opted for another option — his fiancé's breast milk.
The 40-year-old new dad, who is the half-brother of The Kardashians stars Kylie and Kendall Jenner, went viral for wondering how breast milk belonging to his fiancé and professional surfer, Tia Blanco, would taste in his morning coffee.
He noted that it would be fascinating to substitute his typical almond milk for a splash of breast milk in his morning latte.
"I hear it's very nutritious. I hear it's very delicious. I think it will do," he says to the camera.
He then heads into his bedroom where Blanco lays in bed with their daughter. Jenner asks her if he could use the breast milk in their coffees.
"That would be really good for you," she answered.
After making a latte by mixing the coffee with the breast milk, Jenner poured it in a mug and drank the beverage alongside Tia, who also had her own breast milk latte.
The couple — who document their new parenting journey on their joint YouTube channel called Brody & Tia — shared their views on how the breast milk tasted.
"It's friggin' delicious!" he exclaimed after tasting the drink.
Tia added, "It just tastes like coffee."
Fans were surprised at Jenner's breast milk move, with most applauding the new dad's open-mindedness.
"I love that you guys weren't afraid to drink the breast milk," one user said.
Another added, "Love that Brody asked before using the breast milk #liquidgold."
Jenner and Blanco got engaged at their princess-themed baby shower in June before welcoming their daughter — a baby girl named Honey Raye Jenner — in July.
"We are so incredibly in love and have been cherishing this precious time together as a family," the pair wrote on Instagram at the time, sharing a video of the moment Blanco gave birth to Honey in a birthing pool. "We want to thank everyone for all the love and support."
The new girl dad opened up about how he plans to parent his new baby girl, noting that he hopes to break some generational curses.
In another video posted to the couple's YouTube channel, he admitted that he wants to "do the total opposite" to what his dad, Caitlyn Jenner, did.
Brody explained in a video after the birth, "I think that what I'm most excited about [being a dad] is doing things differently than my father did. Growing up, I didn't have the greatest relationship with then-Bruce."
He added his parent, who publicly came out as transgender and changed her name to Caitlyn in 2015, "wasn't really around for him growing up."
"So I think that just doing the exact opposite, being the absolute best father I could possibly be and getting ready for the journey and just so very excited," he added, saying he was ready to "be there for all the incredible moments."