Bruce Willis' Wife Emma Heming Got Real About Motherhood & Grief In Heartfelt Instagram Video
Willis and Heming share two young daughters.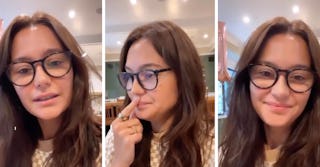 Instagram / Emma Heming Willis
Bruce Willis' wife Emma Heming Willis has shared the rollercoaster of emotions she experienced on the actor's first birthday since revealing his frontotemporal dementia diagnosis.
The Die Hard actor turned 68 this past weekend, and Heming Willis posted a heartfelt and honest video on her Instagram, describing exactly how she's feeling during a time of what should be joy and celebration.
"Today is my husband's birthday. I have started the morning by crying as you can see by my swollen eyes and snotty nose," she began. "I just think it's important that you see all sides of this."
Heming —who shares daughters Mabel, 10, and Evelyn, 8, with Willis — explained that she appreciates the words of encouragement.
However, Heming confessed that when you're a mom in the midst of raising kids, there is no other choice but to put on a brave face and roll with the punches.
"I always get this message or people always tell me, 'Oh, you're so strong. I don't know how you do it.' I'm not given a choice," Heming, 44, explained. "I wish I was, but I'm also raising two kids in this."
"Sometimes in our lives, we have to put our big girl panties on and get to it. And that's what I'm doing," she continued. "But I do have times of sadness, every day, grief every day, and I'm really feeling it today on his birthday."
She went on to explain that she had been in the process of making an Instagram Reel to honor Willis' birthday when she felt compelled to record a message to those who have shown support for Willis and the rest of the family during this difficult time.
"I worked on this reel that I'm posting for my husband's birthday. I don't know why I do that to myself because the videos are like a knife in my heart," she shared.
"But as much as I do it for myself I do it for you because I know how much you love my husband," she said while starting to tear up.
"Don't cry, Emma," she says before collecting herself. "But it means so much to me, so thank you."
Heming also took a moment to caption her vulnerable video, noting that while she feels profound "grief and sadness," she is appreciative for fan support and hopes her honest words bring a sense of connection.
"Today is one of those days of feeling the grief and sadness. But the silver lining or the flip side is that I'm so lucky to feel your warmth and love that is directed to my husband and our family. I see your messages, your stories that you share, and all I can say is thank you. Your connection helps me and I hope it helps you in a small way to know that I see you and I deeply understand your journey as well💞" she wrote.
Thousands of comments flooded in with words of support and empathy for Heming, noting that being a mom and a caretaker to a special needs family member can be overwhelming. Several users empathized with Heming's position of having "no choice" when it comes to being a strong pillar for her family.
"While my journey is not yours, I relate to every emotion as a mom/caregiver of an adult child with a developmental disability. You are right we are not given a choice. But... your are teaching your beautiful girls a level of compassion, empathy, perseverance, grit, gratitude, and most of all love that is only taught by example. Life is caught not taught. You are seen and I know I'm not the only one who appreciates your realness," one Instagram user wrote.
Another woman wrote, "We are thrown into a club we never asked to join. What do we do, wallow (sometimes) grieve over what was and what should have been, sure. Mostly we put one foot in-front of the other and keep it moving. We are stronger than we ever knew we could be. I see you @emmahemingwillis I feel your pain and grief. I'm praying comfort, peace, and strength over you & your family. Much love!"
Later that day, Heming went ahead and posted that Instagram Reel she mentioned, which included a touching collection of family home movies.
"He is pure love. He is so loved. And I'll be loving him always. Happy Birthday my sweet 💌 My birthday wish for Bruce is that you continue to keep him in your prayers and highest vibrations because his sensitive Pisces soul will feel it 🙏🏽 Thank you so much for loving and caring for him too," she caption the post.
Willis' ex-wife Demi Moore also posted a video in honor of his birthday, where the Armageddon star is shown celebrating with Moore, Heming willis, his daughters and other family members.
In the video, the family sings "Happy Birthday" to Willis followed by him blowing out candles on a pie.
Moore captioned the video, "Happy birthday, BW! So glad we could celebrate you today. Love you and love our family. Thank you to everyone for the love and warm wishes — we all feel them."