Cardi B Revealed What She Packs Her Daughter For Lunch & It's Just So Relatable
"Kulture's school lunch be everything."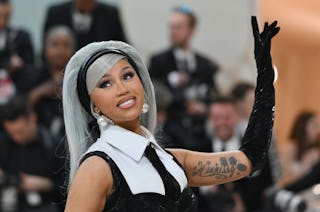 ANGELA WEISS/AFP/Getty Images
Summer is finally around the corner which means most moms get a damn break from packing what seemed like an endless amount of lunches. How many combinations of protein, veggie, carb, and treat can one person think of?
While packing lunches may be one of the less glamorous aspects of parenting, it may bring some comfort to know that us normal folk are not alone in cooking mac and cheese at 8 AM for a noon lunch period.
Rapper and mom, Cardi B, is also cooking in the kitchen to make sure her daughter's lunch is delicious and nutritious.
Cardi — mother to daughter Kulture, 4, and son Wave, 1 — gave her fans a glimpse at her daughter Kulture's school lunches in a recent tweet, and the food selection is probably all stuff you have in your pantry right now.
The rapper tweeted photos of a selection of her 4-year-old's packed lunches, including chicken nuggets, macaroni and cheese, and corn. Kulture also has the option of eating some chopped fruit, yogurt, M&Ms, flavored milk, and chips.
"Kulture school lunch be everything," Cardi, 30, tweeted with a red apple emoji.
Cardi B's fans started tweeting back to the rap superstar complimenting the "Be Careful" singer on her food selections for Kulture.
"Yes Cardi!!! When I tell you I make my twins lunch every morning and they're 17! I love it!!" one person wrote.
"You can adopt me if you want. I'm kinda old but I'm funny, sometimes. I could teach you how to paint," said one Twitter user.
One fan joked, "If this is school lunch, what does her breakfast and supper look like?"
Cardi quickly replied back by showing a selection of her daughter's other meals.
"Lol …..like this," she tweeted in response with a photo of a bowl of what appear to be pancakes, with chopped fruit for breakfast, and a video of Kulture munching on chicken, corn on the cob, carrots, and broccoli for dinner.
And yes, it's most likely Cardi prepping all that food herself.
Celebrities! They're made to order chefs for their toddlers just like us!
In a July 2022 interview with Singapore Vogue, the rapper revealed that she does not have a nanny for her kids. She explained that once she gave birth, there was no way she was going to leave Kulture's side.
"I was afraid of anybody being around her besides my family. I've never had a nanny for Kulture," she admitted.
"Your parents have already lived their life and raised their kids. They are older and don't have the same energy as someone in their 20s. I'm never far from my kids because that's my responsibility as a mother."