Chris Pratt Advises People To "Rush" To Have Kids
The actor said that you should take time to find a good partner, but then "don't wait."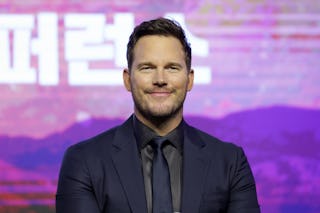 Han Myung-Gu/WireImage/Getty Images
One of the biggest questions parents face happens even before they have kids: when is the right time to have kids? Some people want to start a family as soon as possible, some want to be older, wiser, and more financially secure, and some people think there's no perfect time to have children. Chris Pratt, Guardians of the Galaxy star and father of three, thinks that new couples should pull the trigger ASAP.
The 43-year-old Hollywood dad sat down with Men's Journal last week and opened up about all things fatherhood, but on this topic he seemed pretty adamant.
"People say all the time, 'Don't rush to have kids.' I personally disagree. Rush. Have them," he said. "Of course, make sure you find a great partner, but don't wait."
He went on to explain where he got that advice — and why it's great.
"I was talking to Adam Sandler a while back and he said, 'Every day you wait is a day they don't get to have you in their life.' The younger you have kids, the more time they get to have with you," he continued. "It's wild. Having kids is incredible. The things you normally take for granted in life are new."
Pratt shares oldest son, Jack, 11, with ex-wife Ana Faris — he had Jack when he was 30. Not so early! He also has two daughters with wife Katherine Schwarzenegger, Lyla Maria and Eloise Christina, who were born in 2020 and 2022, respectively.
The pair recently celebrated their anniversary, and spent their first night away from the kids alone in three years.
The Mario Bros. star also said that having kids is changing how he acts and what roles he accepts, if only so that parents have higher-quality acting to sit in front of when they watch with their kids.
"In the same way that being a father changes the kind of actor you are, it can definitely change the kinds of roles you want to be involved in," he told Men's Journal. "I've found myself wanting to do more PG movies. I see a lot because my kids want to watch them, and to be honest, some of them are bad. And I'm sitting there thinking, This is terrible. So at the same time as wanting to make movies that would entertain my kids, I'm also thinking about creating movies that are merciful on the parents."
As for Father's Day, Pratt is hoping for some original art, or any reminder of the special bond he has with his kids.
"I'm a sentimental guy. So any kind of artwork that would remind you of the time when the kids were that age, and that time in our lives is a delight. I'm holding onto that tightly. That's not going anywhere. Or a framed picture. It's about time you spent with your kids—that they remember as well. That's a gift.