Chrissy Teigen Just Welcomed A Rainbow Baby With John Legend
Legend confirmed that his wife Teigen gave birth on the morning of Jan. 13 during a private concert later that day: "What a blessed day."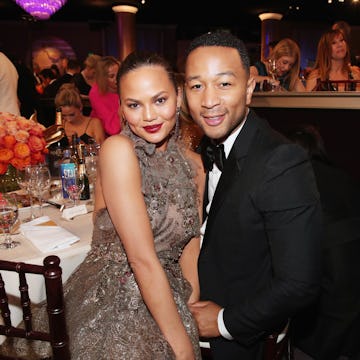 Christopher Polk/NBC/NBCUniversal/Getty Images
Chrissy Teigen and John Legend just welcomed another little one to the family!
During a private concert on Friday, Jan. 13, Legend explained that his wife Teigen had welcomed "the little baby this morning" and added "What a blessed day."
The crooner admitted to the crowd that he "didn't get a lot of sleep" but he "feels energized" after spending "a lot of time" at the hospital, per People.
As of now, the couple has not announced a name. The couple shares son Miles Theodore, 4½, and daughter, Luna Simone, 6½.
The birth of their baby comes just a little over two years since the couple experienced a devastating pregnancy loss at 20 weeks with their son they named Jack in October 2020. Teigen, who has always been open about the highs and lows of parenting, has talked about how the choice to terminate the dangerous pregnancy.
"I had to make a lot of difficult and heartbreaking decisions. It became very clear around halfway through [the pregnancy] that he would not survive, and that I wouldn't either without any medical intervention," she explained in The Hollywood Reporter. It wsan't until after Roe v. Wade was revoked that Teigen realized that she had had a life-saving abortion.
Teigen first shared that she was expecting again in August 2022 on Instagram. "​​The last few years have been a blur of emotions to say the least, but joy has filled our home and hearts again," she captioned the post. "1 billion shots later (in the leg lately, as u can see!) we have another on the way."
It's been a long road for Teigen and Legend. Congrats to the family and their new rainbow baby!