Chrissy Teigen Is Flaunting Her Leaky Postpartum Boobs As She Should
The mom of three jokes about her milk stains after giving birth to her daughter, Esti.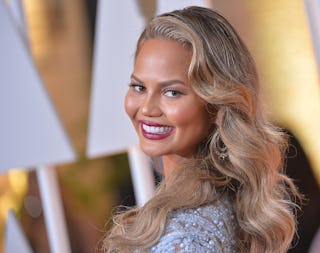 Michael Buckner/WireImage/Getty Images
After a few difficult years, it's nice to see Chrissy Teigen at her happiest again, thanks to the birth of her long-awaited rainbow baby, Esti, earlier this month. The Legend-Teigen family is officially a family of five, and while the kids take on their new roles as big sister and brother, Chrissy is giving an update on her postpartum journey — her boobs will not stop leaking.
The supermodel took to Instagram to share wet spots from her breastmilk because, yes, being a new mom means it ruins all of your clothes. And guess what? in a silk dress, boots, and a hat, she looks absolutely fabulous.
"[On my way] to bandage together both my wound and 3.8-second clips of Beyonce performing in Dubai until I get a full HBO special," she captioned the post.
Chrissy was posed wearing a long black silk slip dress, with boots, a chunky cardigan, and a fedora hat, holding an iced coffee while seemingly looking down at her outfit, which has more than a few milk spots.
Time to whip out the nipple shields. Or go with it? It's up to you, mom.
She also shared a closer shot while sitting in the car on her Instagram stories, writing, "wonderful."
She also added additional commentary in the comment section, writing, "my baby: wah me: learning to edit."
"I'm so glad women now have the freedom to acknowledge .. not hide," one follower shared. "Love that you are normalizing leaking through everything in the first weeks postpartum. You wake up at night and you're like "Is it pee? Is it milk? Or is it sweat?" So many body fluid options 😂. Thank you for sharing," another user gushed.
Others chimed in with their own soggy stories, like "I didn't have my nursing pads with me at work, once...so I stuck regular menstrual pads in my bra. Worked perfectly and were great to have as a backup, for times I forgot to bring the washable ones."
Honestly genius.
The Cravings author announced the birth of Esti on her social channels on January 20, writing, "She's here! Esti Maxine Stephens - the house is bustling and our family could not be happier. Daddy sheds nightly tears of joy seeing Luna and Miles so full of love, and I am learning you still need diapers with a c-section!? We are in bliss. Thank you for all the love and well wishes - we feel it all! X."
Chrissy shared a first look at Esti, who was wrapped in a pink blanket and held by her big brother Miles, 4, while Luna, 6, touched her affectionately.
Esti was actually born on the 13th of this month, which was confirmed when John Legend held a private concert and announced to the audience that Chrissy had given birth earlier that morning, adding, "What a blessed day."
Sending prayers to Chrissy's wardrobe for the next few weeks, they don't stand a chance.