Chrissy Teigen Cleared Up Surrogate Accusations With Photo Evidence
Rumors started after an Instagram comment from a fan.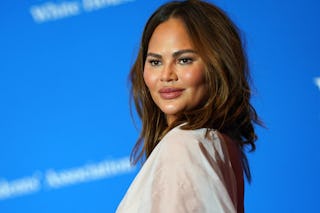 STEFANI REYNOLDS/AFP/Getty Images
Chrissy Teigen, the queen of clap backs, further proved that she is deserving of the crown when a fan perpetuated a rumor that she had used a surrogate for the recent birth of her 4-month-old daughter Esti Maxine.
This weekend, the entrepreneur shared photographic evidence to a thread of judgemental online accusations that she had secretly used a surrogate. She also got in on the action in her own comment thread.
Here's how it started: a follower commented on a photo of Esti, asking who the surrogate was. Another follower jumped in to say that Chrissy hadn't used a surrogate — and in response, the original commenter wrote that Chrissy had faked her entire pregnancy!
"Obsessed with this comment," the Cravings cookbook author added about one specific comment on the thread that claimed Teigen was "born male" and "used something called a moonbump" during her pregnancy, before also claiming that they were a "huge fan of Chrissy by the way."
Teigen then decided to upload a photo from her very real C-section procedure to her Instagram stories. "Extremely realistic 'moon bump,'" Teigen sarcastically wrote over a very intimate shot taken of her C-section.
Teigen has previously spoken about her C-section experience, sharing that she enjoyed being able to experience two different ways of giving birth.
"I was kind of excited because I'm like, 'Yeah, I've done the vaginal thing twice. Let's try this,'" she told People, speaking about her two previous births with daughter Luna, 7, and son Miles, 4 whom she shares with husband, John Legend.
"It really is so crazy, but I still think it's so cool. I'm like, 'Oh, my God. I was laying there wide awake with my body cut open and a baby comes out.'"
She also told People that she "loved surgery" and thought it was "so cool" to have her organs out of her body for a moment.
"The incision is a lot and you never know how your stomach's going to come together," she recalled. "I think your organs are on the table for a second, but that to me is so cool. I was taking pictures above the seat. I have the craziest pictures of the cord and everything."
On to the next totally weird celebrity rumor!