Emilia Clarke Posted A Natural Selfie And The Internet Can't Stand That Women Age
It's men. Men are "the internet."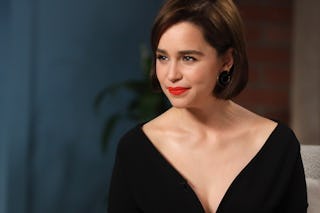 Variety/Penske Media/Getty Images
When will the world let women age in peace? There is not a day that goes by without some troll making a comment about the looks of a celebrity over the age of 30.
Either she's trying too hard to be young, or she's not really doing any of the trendy anti-aging upkeep measures (hair dye, fillers, etc.) and that's an issue as well. A woman with wrinkles and grey hair? The horror!
Game of Thrones alum, Emilia Clarke, 36, sparked an uproar from those who thought a selfie she posted to Instagram was an insult to their eyes. Why? Because she had some smile lines and a few hairs out of place. And also because she doesn't still look like her fictional character looked 12 years ago.
The painfully gorgeous actor shared a selfie, showing off her new mug sent by her mom which read: "You're doing f—g great."
She captioned the post, "Mum got me a mug. I felt it was important to share this new found wisdom. Use it and reap the rewards ❤️ #itstimetostartbackingyoselfpeople #mumsreallydoknowbest #mycoldjustgotitsmedicine."
Though the post was meant to send a simple and positive message to her followers, it quickly turned bad when trolls started to pipe up with criticism about her appearance.
One user wrote, "Mother of dragons what happened to you?" A rude reference to her iconic role as Daenerys Targaryen in Game of Thrones.
While another added, "What's happening with those hairs, they're worse than mine right now."
Then this guy went viral on Twitter when he shared a screenshot of Clarke's post and wrote, "Lmao wow Daenerys Targaryen didn't just hit the wall she flew into it full speed on a dragon."
Many of Clarke's fans jumped in to defend the misogynistic and agist comments.
In response to the viral Twitter slam on Clarke, one user responded, "man learns for the very first time what 36 year old women with no botox look like."
Another echoed, "Another wrote: "imagine dunking on a woman because she looked more perfect when she was younger in movie quality lighting, makeup and camera angles."
On Clarke's post, fans of the actor swooped in with positive messages to drown out the negativity.
"This is by far the most beautiful woman in Hollywood," a fan wrote.
Another added, "You always put the biggest smile on my face!"
Clarke shared her thoughts on aging during an interview with ELLE in 2021, admitting that a facialist told her she needed to have fillers when she was 28 years old.
Clarke sees aging as a gift. The wrinkles and fine lines are the physical proof that she's living a full and long life.
"You've got this idea of aging, and then you've got the idea of what aging makes you look like," she began.
"At 34, I am wiser, more intelligent, I've had more experiences, I've done all this stuff, and I'm proud of that. You can only do that because you are the age you are. Time is the only thing allows you to do those things."
"So, if my face is gonna reflect the time that I've spent on this earth, I'm down for that," she said.
Clarke, of all people, knows about how fleeting and precious life can really be. While starring in eight seasons of Game of Thrones, she had two life-threatening brain aneurysms in 2011 and 2019, respectively.
In 2019, Clarke revealed BBC's Sunday Morning that a large amount of her brain "is no longer usable" after the health scares, and that "quite a bit is missing" following the surgeries.
"It's remarkable that I am able to speak, sometimes articulately, and live my life completely normally with absolutely no repercussions," she said, noting that both operations required lengthy recovery periods during which she couldn't remember her own name and had panic attacks.
"In my worst moments, I wanted to pull the plug. I asked the medical staff to let me die," Clarke recalled.
If only Clarke's upbeat nature and charity for survivors of brain injury and stroke could be the hot topic of conversation and not the fact that she's grown up and looks like a normal 36-year-old since Game of Thrones premiered over a decade ago when she was literally playing the role of a teenager.