Danielle And Kevin Jonas Are Split On Having A Third Child
One wants to add babies, one wants to add dogs.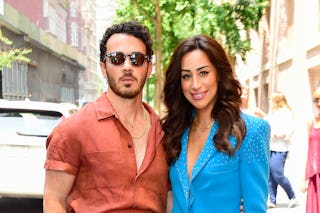 Raymond Hall/GC Images/Getty Images
Everyone who hasn't been living under a rock knows that there are three Jonas Brothers. But how many kids each will the Jonas Brothers have?
For 35-year-old Kevin Jonas, who's married to Danielle Jonas, 36, the final number isn't clear yet.
The couple gave a joint interview to Today all about their lives, and whether or not their family was complete was a bit of a sticking point.
When asked what their lives would look like in a couple of years, Kevin said, "more dogs."
But Danielle had another answer.
"I would love another one," she said. And she wasn't talking about Saint Bernards.
The couple who married in 2008, already share two daughters, Alena, 9, and Valentina, 6.
"There's been a lot ... a lot going on with that," Danielle continued. "But I would love another. I love kids."
"You never know," Kevin responded vaguely. Today said he was "shifting in his seat."
All three of the Jonas Brothers have started families in recent years. Joe, 33, is married to Sophie Turner of Games of Thrones fame, and the two share a 3-year-old girl named Willa and another baby girl (whose name has not been made public). Youngest brother Nick is married to Priyanka Chopra, and the duo recently welcomed19-month-old Malti.
So far, Joe and Sophie haven't talked publicly about expanding their family to three kids, but Nick and Pri want Malti to have siblings and are in agreement they want to add to their family, according to multiple sources.
There's a ton of debate about how hard it is to go from having two kids to having three kids. That's when parents are suddenly outnumbered, when you have to look into buying a minivan, and when tables for four no long work. But it's also the time when your house fills with the sounds of kids and everyone has a playmate.
Whether they decide upon kids or dogs, here's to a happy future, Kevin and Danielle.