Emmy Rossum Defends Role As Tom Holland's Mom In New Series Despite Only Being 10 Years Older
"It makes sense when I read the script."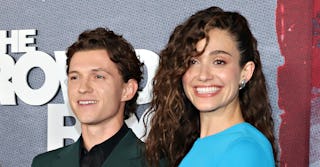 Cindy Ord/WireImage/Getty Images
In the new miniseries, The Crowded Room, Emmy Rossum, 36, plays the role of Tom Holland's character's mom. Tom Holland is 26-year-old. Yup, despite being only ten years older than Holland, Rossum landed the role as his parent. Sure, this is the movies and sometimes things are a bit strange, but in what world does Rossum remotely look like she could be Holland's mom?
Even though Rossum's character was a teen mom who had her son at the age of 16, that's a far stretch from ten years old.
The small age gap doesn't seem to phase Rossum, who defended the decision to have the two play mother and son. Entertainment Tonight spoke to Rossum at the premiere of The Crowded Room, and she revealed what it felt like to play "mom" to an actor 10 years her junior.
"It makes sense when I read the script," Rossum said. "Candy's a super young mom, she's almost a child in her own right when she becomes pregnant at age 16. You watch as I age from 25 to 35, which is actually younger than I am now."
Twitter had a field day with this news, questioning the age gap and recalling so many other times this kind of casting has happened in the film and television industry.
"It is not artistic choice — it is the 'older' women are so ugly no one will watch them — so actresses must be pretty & much younger then their character and men just need to be good actors. Same mentality in 2023 as 1923 Hollywood," one user wrote.
"It's a long tradition in Hollywood. So many similar examples. We all know why," one Twitter user wrote.
They're not wrong. For decades, female actors have been "aged out" of romantic opposites and cast into "mom" roles before they turn 30. Male actors are constantly being casted with women much younger than them to play a romantic interest.
Amy Poehler was only seven years older than her on-screen daughter played by Rachael McAdams in Mean Girls. In the movie Alexander, Colin Farrell was 28 years old at the time and Angelina Jolie, who played his mother, was only 11 months older than him.
Nicole Kidman was cast as Jason Momoa's mother in Aquaman, despite only being 12 years older than him. Ironically, that's the same age difference as Momoa and his wife at the time Lisa Bonet.
In Riding in Cars With Boys, Drew Barrymore played Adam Garcia's mom despite the fact that she was two years younger than him.
The list goes on and on.
Despite being part of an eye-roll worthy trend in Hollywood, Rossum continued to defend her role in the Apple+ miniseries. She said she, "fell in love with the relationship between mother and son and the closeness and everything that they're grieving in later episodes."
"I was so taken with the series and really just loved all my scenes, especially with young Danny," Rossum said of actor Zachary Golinger, who plays a younger version of Holland's character.
"Our relationship was so beautiful and so I knew everything that we had that I had lost in the scenes with Tom. [It] was really fun."
Rossum, mom to a 2-month old son and a 2-year-old daughter with her husband, Sam Esmail, said this role of a young mom "brings up a lot" of feelings for her.
"Finding out during our last couple episodes that I was pregnant with my son, who was born 8 weeks ago, it brings up a lot about our imperfections as people, the unrealistic expectations that we place on ourselves, and how we are really just a product of our own upbringings," she said.
"I think the show has a lot to say about love and empathy and understanding of those who are different than we are."
The first three episodes of The Crowded Room will premiere June 9 on Apple TV+ with additional episodes airing Fridays through July.