Eva Longoria Is Raising Her Son To Be Kind
The multi-hyphenate star spoke with Scary Mommy about the importance of reading and raising a son who celebrates and empowers all voices.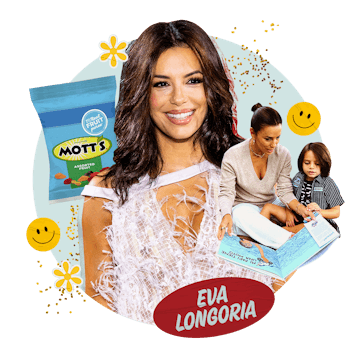 Ariela Basson/Fatherly; Getty Images, Mott's
Eva Longoria loves books. A self-proclaimed voracious reader, she's already passing on her affinity for storytime to her 5-year-old son Santiago. But the multi-hyphenate star understands all too well how lucky she is to be here now, as a mom, nurturing her own little next-gen bookworm — because the San Antonio native grew up in a book desert.
According to the Cooperative Children's Book Center, a book desert is a geographic area or population where quality, affordable literature is challenging to access. And currently, nearly half of children in the U.S. (45%) live in one of these underserved areas.
Coupled with the lack of diverse perspectives in children's books — only about 7% of characters are Latino — it makes it that much more difficult for kids to expand their world through reading.
So, when Mott's Fruit Flavored Snacks approached Longoria about partnering on a mobile library that will travel the country bringing multicultural titles to book deserts all over, she didn't hesitate.
"I've always loved the idea of building your home library, and even I was like, 'Ah, where do I go? Can somebody curate this list for me? What books should my child be reading?'" she shares with Scary Mommy. "Not only do I love the aspect of giving accessibility to people for books, but I love the curation of the books — they're from very diverse authors, and they're very diverse stories. So, it's not only access to books but access to different cultures and different characters. I think that's super important."
Plus, as Longoria points out, families who purchase Mott's Fruit-Flavored Snacks by May 2024 and redeem by July 24 can use their receipt to receive up to 16 children's books featured in the "Snacks and Stories" initiative.
We caught up with Longoria to discuss what storytime looks like in her house, which books she read on repeat as a child, and how she's raising her son as a feminist.
SM: What does reading as a family look like in your home?
EL: It's usually chaos (laughs). We do storytime at bedtime, and Santi, of course, wants to read 10 books and wants me to act it out. I usually do performance art. And then when my husband does book time, he's not as exciting, so Santi's like, "Boo. I want Mommy."
SM: What advice do you have for parents for getting outside their own echo chamber when introducing diverse perspectives in books to their kids?
EL: Luckily, kids choose what they like. You know: "Read me that one again," and "What does that mean?" It really stimulates conversation. It stimulates questions. So, I think as a parent, it's just our job to try to expose them to as many different stories and authors as we can.
SM: If you had to fire off a few books you feel like every child should get the chance to read, what would they be?
EL: Oh, gosh… it depends on the age. Growing up, we read a lot of Lil' Libros from Patty Rodriguez, which were bilingual. I love bilingual books because Santi speaks Spanish and English. So when he can see the words in English and then in Spanish, he's like, 'Oh, OK.' There's connectivity happening.
There are a lot of books in this curation that I have always had in my library. De Colores was one of them because it's just all the folk songs we grew up with. And then this one, What Can You Do with a Paleta? by Carmen Tafolla, Santi loves because it's bilingual and he loves paletas.
As [kids] get older, I love the classics. I grew up with Charlotte's Web. I think I read that one 80 times.
SM: We live in such strange times right now, and that includes an uptick in book bans. What are your thoughts on that?
EL: With 45% of the country living in book deserts ... we shouldn't be decreasing accessibility; we should be increasing accessibility to people with their reading materials. And those books should come from every walk of life, every culture, every community, every gender. I think it's very, very important what Mott's Fruit Flavored Snacks is doing in going on this tour and exposing families to a diverse curation of 16 books … it's not only access to books but access to diverse storytellers. That's important.
SM: You're such a strong, empowering, and politically minded female in what is a charged landscape. What are some of the ways you're raising your son to support and celebrate women?
EL: Well, I think you can't teach your child to be a feminist. You have to show them. You have to be the example. You have to do the things and walk the walk and talk the talk. I think he sees it. He'll see women are equal because, in our household, they are. In my workplace, they are.
It was so funny because we were watching the Women's World Cup on TV a lot when it was on, and then we went to an Angel City soccer game, the female soccer team here in LA. Then something came on the TV, and it was men's soccer. He goes, "Oh, I didn't know boys played soccer." That right there is like, "Wow." He really thought soccer was a female sport, and "Oh, do boys get to play it too?" I said, "Yeah." So, it is about the life you lead by example.
SM: As the saying goes, kids are our future. When you look to Santi's future, what's your greatest hope for him?
EL: That he's a kind, mindful, aware human being. Kindness is a big word in our house, and awareness — awareness of other people and feelings and empathy. All of that goes under that umbrella of just making sure he's mindful of other cultures and people. We travel so much, and he's already ahead of the game because he speaks two languages.
He's exposed to so much, and he knows, "Oh, we live in a global community. We don't live in Texas. We don't live in LA. We don't live in these cities. We live in a global world." And so to have that understanding really nurtures tolerance. It nurtures compassion, it nurtures understanding of other cultures, it nurtures acceptance of other people.
For me, that's the most important thing in our house.
SM: Speaking of being bilingual, you weren't until you were–
EL: 40. My second language is French because of my ex-husband, but my third language is Spanish, and I didn't learn that until my 40s.
Now I'm fluent, but I didn't grow up with it. Being Mexican-American, we were really told not to speak Spanish, and there was a huge monolingualism push in our community. My mom was terrified for us to have an accent or to be made fun of, so I had to learn it late in life. And I always regretted that. I was like, "Mom, I can't believe we never spoke Spanish," because growing up, being older, it's so much harder.
SM: Having not had that yourself at an early age, what's it like seeing Santi move through the world as a child of more than one culture?
EL: Oh, I love it. We were just in France, and he's like, "Oh, that means I get to eat macarons." He knows certain things are in certain countries. It's so fun to see the world through his eyes of, "Why do they do that here? Why do they sound like that?" And I'm like, "Oh, yeah, that's a good question. I don't know why they do that." Or really studying cultures wherever we go.
He just notices everything, and it's really refreshing to see the world through a child's eyes.
This interview has been edited for length and clarity.