Gabrielle Union And Dwyane Wade Explain Leaving Florida For The Safety Of Their Family
"It's unsafe for my daughter, it's unsafe for all the young kids."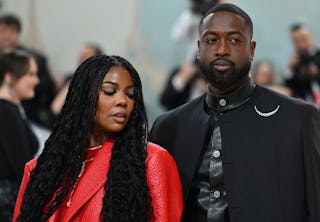 ANGELA WEISS/AFP/Getty Images
A wave of incredibly conservative laws and policies are forcing some families to move away from red states — uprooting their lives and leaving behind beloved communities. Actor Gabrielle Union and former NBA star Dwyane Wade have now joined that group. The power couple recently moved from Miami to Los Angeles, explaining that Florida was simply too unsafe for their trans teenaged daughter, 15-year-old Zaya Wade, as well as for, well, any kid.
Union, 50, and Wade, 41, opened up about their decision to move across the country from a red state to a blue one while walking the red carpet at the Met Gala this past weekend.
"I love Miami," Wade told Varitety. "Miami has done so much for me. Florida has done so much for me. … But the last couple years, the laws, the politics have really become this big conversation. This unsafe conversation. And it's unsafe for my daughter, it's unsafe for all the young kids, the youth and the adults and the [elderly] in the trans community. So for us, as much as I love that city and as much as I'm always going to be a part of it … for the safety of my family, that's what it was for me. I couldn't move back."
"Obviously, the work don't stop," he went on. "For all the kids in south Florida: We will always continue to speak out, to speak up. We continue to stand with this community because this community is for us, is with us. It is our community because of our daughter, Zaya Wade."
Florida, under the power of far-right Governor Ron DeSantis and a conservative house and senate, has been an increasingly unfriendly place for marginalized groups, including queer and trans people. The controversial "Don't say gay" bill is currently being expanded, vaccines are under fire, books are being banned in schools, and even Disney World is under fire.
Union echoed her husband's thoughts, also to Variety.
"We had to think about where every member of our household would be comfortable and welcomed and celebrated," she explained. "In 2016, there was a move towards a less inclusive world and we felt that pretty immediately. And now, when you think about okay, older kids. They're out in the world, Zaya's gonna graduate in a couple years. Where would Kaavia James go to school, where they're open to teaching facts and accurate history? And where can they say gay, much less trans? And where would we maybe not get arrested for affirming our child's identity?"
"And for everyone that is still in Florida and fighting the good fight, keep fighting because we are there in all of the others ways that we can be supportive of the movement in restoring real freedom," she said. "But just know that we are actively not just fighting for our own family, but your family as well. We're not free until everybody's free."
In addition to Zaya, Dwyane has four other children: 21-year-old Zaire and 9-year-old Xavier from previous relationships, as well as his 21-year-old nephew Dahveon Morris, for whom he is legal guardian. Dwyane and Union also share daughter Kaavia James, who is 4.
Zaya came out to her family as trans when she was just 8 years old, and Dwyane and Union have always been not only supportive, but active, passionate, and outspoken about LGBTQ+ rights.
"Come and live in day in my world with my daughter," Wade said at the Time Summit last year. "Come and see what it is to walk through this world as her. ... Why are we not talking about it? Why are we not educating our kids? Why are we not educating ourselves? You can't close the book on what somebody want, on how they feel they are."