A Favorite Tradition Returns
Hallmark's Christmas In July Lineup Includes 2 New Holiday Films
Get ready for a holly, jolly summer — Hallmark's Christmas in July is back!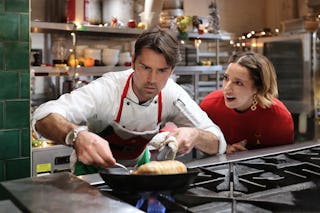 Hallmark Channel
Whoever said Christmas comes but once a year never met the Hallmark Channel. For the 11th year in a row, the channel is bringing a much-needed dose of holiday goodness to the dog days of summer with its Hallmark Christmas in July film lineup. Starting July 1, holiday movie fans can tune in for festive marathons every single day of the month.
This year, Hallmark is putting the power in your hands. Viewers can download the Hallmark Movie Checklist app to vote in a poll each Monday to help decide which fan-favorite movies they want to see throughout the month of July. The fan-chosen films will be incorporated into the daily marathons airing each day from 10 a.m. to 10 p.m. through July 31.
Don't want to wait until July to get your Christmas movie fix? Hallmark is pre-gaming the big event with Merry Movie Week, which runs from June 23 through June 30 on the Hallmark Movies & Mysteries Channel. The week kicks off with three days of nonstop festive features fun beginning Friday, June 23, at 11 p.m. and continuing until 3 a.m. on Monday, June 26. After that, fans can catch mini-marathons on the channel each night beginning at 7 p.m. leading up to the month-long celebration over on the Hallmark Channel.
Read on for everything you need to know to get the most out of Hallmark's Christmas in July festivities.
Will Hallmark debut any new holiday movies this July?
Hallmark never disappoints when it comes to serving up holiday movie magic. While most of the movies airing during the month-long marathon will be from the channel's vast library of Christmas films, two new Christmas movies are premiering in July, too.
First up, premiering Saturday, July 8, is A Royal Christmas Crush starring Arrow's Katie Cassidy and Hallmark movie regular Stephen Huszar. Cassidy stars as Ava, a woman who starts her dream job at the Royal Ice Hotel, where she quickly falls for the royal prince (Huszar).
On Saturday, July 15, things get magical with the debut of The Christmas Reboot. The movie follows Renee (Vanessa Lengies), a woman whose Christmas wish comes true... with a catch. After making her wish, she wakes up to find she's living her dream life. The only trouble is she's no longer married to her husband, Aaron (Corey Sevier), and she only has until Christmas Eve to win him back.
Can you stream Hallmark's Christmas in July?
Yes! Even if you've cut the cable cord, there are ways to stream the Hallmark Channel. If you subscribe to Peacock (prices start at $4.99/month), the streamer has live streams of the original channel, Hallmark Movies & Mysteries, and Hallmark Drama. It also has an on-demand section that includes the channel's new releases and plenty of holiday films.
If you're not into Peacock, another option is FrndlyTV, which is $6.99/month and includes all of the Hallmark Channels, as well as Lifetime. Hallmark is also offered via Philo, Sling, Hulu + Live TV, YouTube TV, and Fubo.
How to Turn Christmas in July into a Family Celebration
The best part about Hallmark's Christmas movies is that the whole family can enjoy them. Yes, they're a little cheesy and totally predictable, but they're also warm-hearted and full of holiday fun. If your kids already enjoy watching holiday movies with you, there's no reason you can't turn Christmas in July into a summer event.
Once Hallmark releases the full schedule, pick a day full of movies you know your family will love and plan a little Christmas celebration minus the stress. Here are a few activities that go together perfectly with a Hallmark Christmas movie marathon:
Buy pre-made sugar cookie dough and break out the Christmas cookie cutters.
Plan a Christmas pajama day.
Decorate a mini Christmas tree and challenge the kids to make their own ornaments with objects around the house.
Crank up the air conditioner and make hot cocoa.
Hang a string of indoor lights, pop some popcorn, dim the lights, and have a family "sleepover" in front of the TV.
Have an indoor snowball fight.
Make holiday chocolate bark or another family-favorite treat you only have during the holidays.
Whether you plan a whole day of holiday fun or just snuggle up with a Christmas blanket on the couch, Hallmark's Christmas in July celebration is a perfect excuse to beat the heat by staying inside and dreaming of the holidays.