Henry Winkler Gets It: "A Heard Child Is A Powerful Child"
The iconic actor, his longtime writing partner Lin Oliver, and award-winning creator Dan Santat discuss their new children's book, Detective Duck.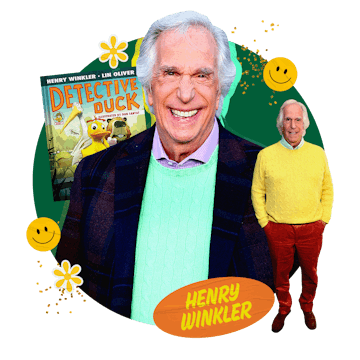 Ariela Basson/Scary Mommy; Getty Images, Harry N. Abrams
Few people survive their adolescence unscathed, and fewer still come out on the other side feeling like they actually felt seen and heard during those tricky middle years of youth. Henry Winkler understands. In fact, Winkler struggled with it in a way that brought the iconic actor (ayyyyyy, Fonzie!) to a cathartic career path: children's book author.
"I will tell you this," he said to me over Zoom. "I had a rough time with my parents … I realized a heard child is a powerful child. And I think in every one of our books, there is somebody who hears our character."
The "our" Winkler is referring to is his longtime writing partner, Lin Oliver, who's written dozens of books with him. Their latest, Detective Duck: The Case of the Strange Splash, is another in an ever-growing collection of YA stories that center this sort of emotional recognition.
In the full-color chapter adventure book, a young duck "detective" named Willow Feathers McBeaver sets out to uncover the problem plaguing her beloved Dogwood Pond. With the support of her dad, Mr. McBeaver, and her pond pals, the precocious little duck doesn't stop until she finds answers — even when she struggles with feeling like she's not enough.
There's a brilliant moment with Mr. McBeaver toward the beginning of the book when Willow tells him she wants to be a detective. He scoffs at first, but then, to paraphrase, he realizes he made her "feel small."
So, he course-corrects.
"When you're around kids, you realize how much they have to say, and how strong their opinions are, and how deep their feelings run," says Oliver. "We're all just assuming that life is good for them, and they're merely going along their way. So, it really matters to stop, listen, pay attention, and respond to what they're putting out in the world."
Award-winning illustrator Dan Santat, who worked with Winkler and Oliver to bring the characters to life, believes holding space for kids' big emotions is a natural evolution in how people approach parenting.
"One thing that feels universal when you talk to parents or adults who've gone through the rigors of adolescence is you kind of get through childhood, especially around the middle school and high school years, with some scars. I don't think anybody can go through life reaching adulthood without a little bit of cynicism because maybe they saw or heard some awful stuff. Maybe they've gone through tough things. But I don't believe that should be a rite of passage," says Santat.
Instead, Santat sees a shift: As parents, we're thinking more about our kids and how making them feel seen and heard — like Willow's dad does for her in Detective Duck — empowers them to be themselves.
"When we talk about making change, it's important to do those things and just watch that little seed blossom and grow into something bigger," he shares, adding, "I do feel like, as a society, we're making improvements."
Some of those little seeds have already blossomed into bigger things. Santat's example? Pronouns. "Now we're to a point where no one questions it, right? It's already part of the cultural zeitgeist; that's a new default baseline for kids. That's how change happens."
With Detective Duck, Winkler and Oliver hope to plant a few seeds about ecological awareness.
As Willow, armed with her satchel for collecting clues, unravels the mysteries plaguing Dogwood Pond, she begins to realize the harm to their habitat is being caused by humans.
"I think it's vital that we start, at the very youngest age, not scaring children but having them appreciate what the natural world is so that they can, as they get older, dig into the issues and try to make corrections," says Oliver.
For Winkler, the book's underlying message about the environment speaks to a theme in most of his work: teamwork.
"It's not daunting," he says in his sincere way. "You just have to do one little thing, and you have to do one thing together. You've got friendship, you've got cooperation, and you've got, 'We didn't know how; we figured it out together.'"
That's precisely what the characters in Detective Duck do — figure it out together. As a collective, they're a lovable (resourceful) bunch. But, I had to know, did the authors develop any favorites along the way?
Winkler goes first, admitting, "I love the dad because the dad is so supportive. He's right there. He's got a sense of humor that makes his daughter's wings and feathers cringe. But he's right on board with her. 'If I'm needed, I'm there,' he says."
Santat struggles to choose just one of the pond pals but is partial to Sal, the comic-book-loving salamander who tends to jump to hilarious conclusions (ahem, aliens).
For Oliver, it's the title character.
"I'm probably representing girl power here … I love Willow, the little duck who thinks that she can do anything because her motto is 'I may be small, but I can make a big difference,'" explains Oliver. "I think that for all children, and especially for growing girls, that's a really important message — that change happens incrementally, one little web foot at a time, and that's what she's doing. I love that about her."
Detective Duck: The Case of the Strange Splash is available now.