Jennifer Aniston Admits Her Parents' Divorce Made Her Own Love Life "Difficult"
Aniston's parents divorced when she was 11 years old.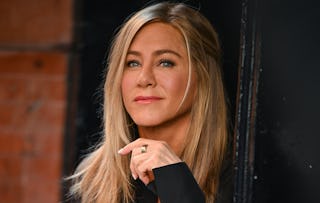 James Devaney/GC Images/Getty Images
Jennifer Aniston admits that her love life hasn't exactly been a smooth ride. During a recent interview with the Wall Street Journal, the 54-year-old actor said that her rocky road when it comes to love could possibly stem from her parent's divorce and the feeling of being "alone" at such a young age.
Aniston was just 11 years old when her late father, soap actor John Aniston, and mom, Nancy Dow, split in 1980.
"It was always a little bit difficult for me in relationships, I think, because I really was kind of alone," she explained in an interview with Wall Street Journal.
"I don't know. My parents — watching my family's relationship — didn't make me kind of go, 'Oh, I can't wait to do that,'" she said.
The Friends alum admitted that after her parents split, she felt it was oftentimes easier to just strike out on her own rather than be attached or actively look for a partner, noting that she didn't have any example set for her on how to compromise or be half of a partnership. In turn, she didn't "know how to do that."
"I didn't like the idea of sacrificing who you were or what you needed, so I didn't really know how to do that,' she said, before adding, "So it was almost easier to just be kind of solo. So I didn't have any real training in that give-and-take."
There is definitely something to Aniston's honesty. Research shows evidence that adult children of divorce tend to have a less positive attitude toward marriage and a lower commitment to maintaining romantic ties, which causes a lack of trust to build.
Aniston let down the walls regarding her childhood home life in a Feb. 2020 interview, calling her household "unsafe" and "destabilized."
She told Interview, "Watching adults being unkind to each other, and witnessing certain things about human behavior made me think, 'I don't want to do that. I don't want to be that.'"
Through the years, Aniston has found love. The Morning Show star was last linked to actor Justin Theroux. The former couple announced their split in February 2018 after two-and-a-half years of marriage.
Before Theroux, Aniston was famously married to Brad Pitt from 2000 to 2005 after starting their relationship in 1998. She later dated Vince Vaughn and John Mayer after her divorce from Pitt.
Despite dating some of the most famous men in the business, she's hoping her next great love is something a bit more low key.
She told People in 2021, "What I'm sort of hoping for is not necessarily somebody in the industry itself. That'd be nice."