Jennifer Garner Shares Her Own Kindergarten Throwback Pic In Honor Of Back-To-School Season
How does she still look the same?!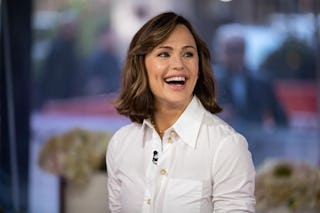 NBC/NBCUniversal/Getty Images
Has back-to-school season really changed all that much? We're all still packing lunches, waiting for our kids to get picked up by the bus, and asking what they did at school with the resounding and universal "Nothing!" answer. We also still have the lovely task of getting a school picture taken every year.
In honor of back-to-school season being in full swing, Jennifer Garner shared the absolute cutest throwback photo of herself when she was in kindergarten.
The 13 Going On 30 actress posted a snap of herself during her young school days, sporting a layered bob haircut, a "homemade" sweater, and a necklace with a love-heart pendant.
Garner cheeses into the camera with a smile that still shines today.
"Happy back to school, everyone, from kindergarten Jen in her homemade and hand embroidered jumper," the 52-year-old actress wrote in her caption.
"Featuring a necklace earned by practicing piano," she added. "Congratulations, Mamas, and 😭😭 they're so big xxxx 🍎📝♥️📚🚸🖍️."
How has Jen pulled off looking exactly the same her entire life? Kudos to good genes!
Garner's post hits home, wishing fellow mamas everywhere a happy back-to-school, as she, too, is sending her three children she shares with ex-husband Ben Affleck — Violet Anne, 17, Seraphina Rose, 14, and Samuel, 11 — back for another school year.
This is not the first time Garner has shared her feelings about the end of summer with her social media followers.
At the start of the 2023 school year, Garner penned a heartfelt back-to-school note, praising teachers, mom friends, and vaccines for allowing her kids to have a successful start to the year.
"Thank you teachers, thank you administrators, thank you school staff — for being on the receiving end of a year and a half of feelings (kids' and parents') — big and loud, quiet and deep," she wrote, in part.
"Thank you science for getting us this far and this much closer to health and freedom. Thank you for moms in your corner and gallows humor and the sun that rises, no matter what. And please, God, hold us in the palm of your hands."