Jennifer Lawrence Admits She Was Both A Bully And Bullied In School
She also named-dropped her bully.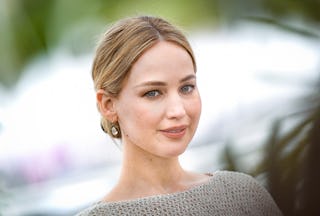 Gareth Cattermole/Getty Images Entertainment/Getty Images
If you were bullied in school, like me, then you probably remember the exact person who made you feel like utter crap. To this day, I still remember my bullies and (to be honest) hold some resentment. Apparently this tendency is not just for us regular folk, but for celebrities too!
Jennifer Lawrence recently admitted that not only was she bullied in school, but she was also an "accidental" bully herself.
While promoting her new coming-of-age film, No Hard Feelings, E! News asked Lawrence, 32, to reflect on her own coming-of-age experiences, including bullies.
After being asked if she had ever experienced being bullying during adolescence, she took the moment as an opportunity to call out her middle school bully.
"This one girl named Meredith handed me a stack of invitations to her birthday party, but I was not invited," she recalled. "She asked me to hand them out. Isn't that so mean?"
She then joked that she spit on the invites and "threw them in the trash."
Her costar in No Hard Feelings, Andrew Feldman, chimed in.
"Middle schoolers are just so mean," he responded, noting that he was both "bullied and was a bully" in middle school.
Lawrence agreed that she also found herself being a bully at times, calling herself an "accidental bully" at one point, confessing that she once "pantsed this kid named Tyler."
"We were pantsing people at a football game, and I accidentally grabbed his underwear," she remembered. "He got really embarrassed and I feel really bad. I'm sorry."
She admitted that she still "Googles" Tyler, "just to be like, 'You alright?'"
Lawrence, who shares one son with art gallery owner Cooke Maroney, opened up last year about her hesitancy to talk about motherhood during an October 2022 interview with Vogue.
"It's so scary to talk about motherhood. Only because it's so different for everybody. If I say, it was amazing from the start, some people will think, it wasn't amazing for me at first, and feel bad. Fortunately, I have so many girlfriends who were honest. Who were like, it's scary. You might not connect right away. You might not fall in love right away," she said.
"So I felt so prepared to be forgiving. I remember walking with one of my best friends at, like, nine months, and being like, Everyone keeps saying that I will love my baby more than my cat. But that's not true. Maybe I'll love him as much as my cat?"
Lawrence also gushed about how giving birth to her own son totally made her love all kids.
"The morning after I gave birth, I felt like my whole life had started over. Like, Now is day one of my life. I just stared. I was just so in love. I also fell in love with all babies everywhere. Newborns are just so amazing. They're these pink, swollen, fragile little survivors. Now I love all babies. Now I hear a baby crying in a restaurant, and I'm like, Awwww, preciousssss."