Watch Jessie J "Summon" All The Pregnant Women At Her Show To The Front Row
She even brought them snacks from her own personal stash, to everyone's delight.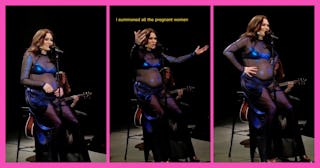 TikTok / @mafaldamcruz
British singer Jessie J is officially a proud mom! However, before she gave birth to her newborn son, Sky, last month, she was very pregnant and still performing like a boss a** b*tch.
In a now-viral clip from April 2023, Jessie is seen on stage during her set, pregnant belly on full display, chatting with a fellow pregnant woman in the audience. What happens after that is truly hilarious.
Jessie J seems to be doing some typical crowd work in between songs when she spots a pregnant woman in the first few rows and immediately asks her if she wants to sit down.
"You're pregnant too? Do you want to sit down? Do you want to sit over here on this side?" Jessie asks. "Seriously? How far are you?"
Though it's unclear how far along the first pregnant woman is that Jessie spots int he crowd, it can be assumed that she's near her due date as Jessie says, "Oh sh*t, come sit here. Come around. No you shouldn't — Yeah, 100% I'm sure, are you're kidding me?"
Suddenly, Jessie spots another pregnant woman at her show.
"You're pregnant as well? Do you want to come up? I'm done. Should I open a crèche? Anyone got babies here? People just start passing their babies forward, like Simbas." she jokes.
As the first pregnant fan makes their way over to Jessie, she insists that they sit down on stools and much on some snacks.
"Look how big you are. You're so beautiful! I didn't realize you were that pregnant!" Jessie says to the fan.
The "Price Tag" singer then takes a moment to bond with the expectant mom over how strangely wonderful pregnancy can be.
"Isn't it wild? Isn't it the weirdest most amazing, creepiest, most beautiful thing?" she asks.
As the second pregnant fan makes her way to the front, Jessie notes how "pregnant" she also seems to be.
"We're like f*cking Teletubbies!" she jokes as the crowd erupts into laughter. "Who are we? We need one more. Where's Poe?"
Suddenly, another pregnant woman and her group yell from the cheap seats.
"There's one more in the balcony!" Jessie says. "I summoned all the pregnant women to sit at the front of the show."
After the pregnant women settle in, Jessie offers them a couple options for snacks because she obviously knows that along with the exhaustion that comes from being on your feet, pregnant women can also have an increased appetite.
"Do you want an apple or like a banana or something?" she asks. "You want a banana? Can we get some bananas?"
Jessie then gets up and heads over to the side stage to grab some of her own personal snacks to give to her pregnant fans. As she's passing out the treats, she bonds with one of the women over her stash of Gaviscon — an OTC heartburn medication.
"This is hilarious!" Jessie remarks as she snacks on stage. "Anything you need, just let me know."
Jessie has been super open and honest about the very real and downright hard parts of pregnancy. She also got real about how difficult and traumatic her birthing experience turned out to be, despite the best laid plans.
"I spent 9 months prepping for a natural birth," Jessie J wrote on Instagram, detailing how she followed a strict health regimen in hopes of delivering her first-born in "a pool birth side ideally with no medication."
"I had a scan at a few days off of 40 weeks, and he was completely the wrong way around and stuck as he was a little chunkier than your average and long," she said in the post.
"I did everything to try and turn him for 2 months, but he said 'Nah mum I wanna make an entrance out the roof, not the front door.'"
The singer shared that she wanted to tell her birth story to help other moms who have have felt disappointment that their birthing experience didn't go exactly the way they wanted to. "So many people have said, 'Do you feel like you missed out on the birth you wanted?'"
"It was everything I wanted because I got him at the end of it," she responded to the question. "That's all that matters."