Joss Stone Revealed The "Scary" Details Of Her Traumatic Birth Experience
The singer opened up about the "massive amounts of pain" she was feeling before an emergency C-section.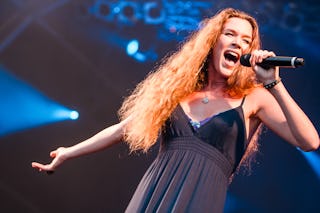 Mauricio Santana/Getty Images Entertainment/Getty Images
Something that is not nearly talked about enough are the real experiences that pregnant people face in the delivery room. Movies and TV shows don't properly depict the actual experience of giving birth the way that most people experience it, and they especially don't reflect how an estimated one-third of pregnant people describe their birthing experience — which is traumatic.
Singer Joss Stone found herself in that one-third of people after the birth of her second child, a son named Shackleton (named after Antarctic explorer Ernest Shackleton). Stone opened up to PEOPLE in a recent interview, explaining that her 30-hour labor turned scary after some complications during labor.
Stone, who shares daughter Violet, 21 months, and baby Shackleton, with her partner Cody DaLuz, told PEOPLE that though she had been "preparing [her] whole life" to have a natural birth, things didn't go as planned. Turns out, Shackleton was a bit bigger than what was predicted during checkups.
"He was 9 lbs. and 2 oz., a slight bit bigger than the doctors had [expected]," Stone said.
While laboring, Shackleton's heartbeat starting to slow, causing commotion in the room.
"[Shackleton's] heartbeat was at normal rate. And then all of a sudden, it just slowed down, massively slowed down. I thought, 'Oh, that's my baby. That's not good,'" Stone recalled.
Stone had already been in labor for 30 hours when the nurse told her that an entire team of doctors were going to come into room. Trying not to incite panic in the mom, Stone says both the nurse an her partner told her to try and remain calm.
"She comes up to me and she goes, 'The room is going to fill up with a lot of people. Don't worry about it. Just stay calm.' Then Cody looks at me and he said the same thing," she shared.
"When I first arrived in that hospital, the nurse that was on call said, 'Do you have a birth plan?' I said, 'My plan is to birth my baby. If something goes wrong and if my baby's in danger, you guys are going to birth my baby. I'm just going to give it to you.' That is exactly what I did," she explains.
Stone says she remembers several doctors and nurses in the room all talking before her baby's heart rate "massively slowed down" again.
She went on to explain that Shackleton was coming down the uterus when things got a little more complicated in a very scary moment for Stone. "He was coming down the birth canal, and when my uterus split, his head went into my abdomen and he went back up," she recalled. "They had to bring him back to breathing again."
She was then put under anesthesia before the baby was removed via emergency C-section. " ...I woke up, I had my baby, and everything was okay," she recalled.
While the moment was beyond scary for Stone, like so many others who have experienced birth trauma, the singer admitted that, despite the circumstances, she is just grateful for the hospital staff that worked so hard to make sure that she and her baby were healthy and happy.
"It was like having 15 angels fly into the room. They were trying to make me feel comfortable. They were very nice and professional and made me feel safe," she said.
The musician, who recently released a Christmas album Merry Christmas, Love, gushed about how much her oldest, Violet, loves her new baby brother.
"It's really great because Violet is so in love with him," Stone said. "She wants to kiss him all the time. She was screaming with excitement to meet him. I mean, she wanted to see the baby more than she wanted to see me."
The holiday season is set to be a busy one for Stone as she promotes her new Christmas album. She is set to appear at the Macy's Thanksgiving Day Parade, the National Christmas Tree Lighting on CBS and at the Grand Ole Opry.
She notes how vital it is to have help when being a working mom, giving thanks for having such a supportive partner in DaLuz. Stone and DaLuz met in 2020 in an airport in Belize and have been together ever since.
"This could not be possible if I was doing it on my own," she shares. "It takes a village."
While Stone feels grateful to have the job she does, she noted that nothing will ever compare to the job of motherhood. She told Hello! that motherhood is "better than all the other things."
"If you take all the jobs, travels and songs, just give me my baby and I'm fine," she noted.