Julia Roberts & Jennifer Aniston Are Set To Star In Body-Swapping Comedy
Margot Robbie's production label LuckyChap Entertainment is set to produce the comedy project.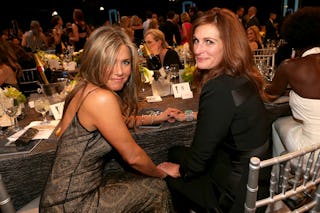 Christopher Polk/WireImage/Getty Images
Two of America's sweetest sweethearts — Jennifer Aniston and Julia Roberts — are reportedly set to star in an upcoming body-swapping comedy where the two icons will trade lives and likenesses while hijinx ensues. The film is set to be produced by Margot Robbie's LuckyChap Entertainment production company, according to Deadline.
The project is set to be written and directed by Max Barbakow, who also wrote the Golden Globe nominated sci-fi romcom, Palm Springs. Barbakow reportedly pitched the idea that will star Roberts, 55, and Aniston, 53, for the film just last week.
Wow, news travels fast!
Roberts' production company — Red Om Films — and Aniston's — Echo Films — will also produce the film alongside LuckyChap, per Deadline. Amazon Studios ended up winning the highly competitive auction among four other studios and streamers to be able to host the upcoming project.
The already buzzing film comes after the box office success of Roberts' film Ticket to Paradise, the romantic comedy that brought back Roberts and George Clooney together for the first time since their Ocean's 11 days. The film, which follows a divorced couple who go to Bali to try and stop the marriage of their daughter, grossed over $172 million worldwide.
Though the film was met with mostly positive feedback, Roberts joked that the movie would be "terrible."
"It's so funny and George is so funny and George and I together, it's probably going to be terrible because there's too much potential for it to be great," the actress told Variety in May. "It'll just implode on itself."
Aniston has also continued to bring the hits with Apple+'s critically acclaimed The Morning Show and upcoming romcom film with Adam Sandler, Murder Mystery 2.
Aniston and Sandler's first go-around in this movie franchise — Murder Mystery — actually set viewing records. In 2019, the film was seen by close to 30.9 million households in its first 3 days, according to Netflix.
The body-swapping comedy will be a reunion of sorts for Aniston and Roberts, who previously worked together on the 2016 film Mother's Day.
At the time, Aniston told Entertainment Tonight that she was intimidated by working with a legend like Roberts despite being friends before working together.
"It's just a different thing when you get to work with them and then you're doing what you both do, [but] together," Aniston said. "I even flubbed in the first take and called her Julia!"
When asked why she was felt so intimidated, Aniston explained, "Because it's Julia Roberts! Oh my gosh!"
There is no set release date for the film, which is very much still in the works, but it will definitely be a trip to see these two old friends lean into the body-swapping trope. Perhaps we should get in line now.