Kaley Cuoco And Tom Pelphrey Had A Drone Show At Their Epic Baby Shower
The party featured an outdoor drone show, dancing, and many personalized touches.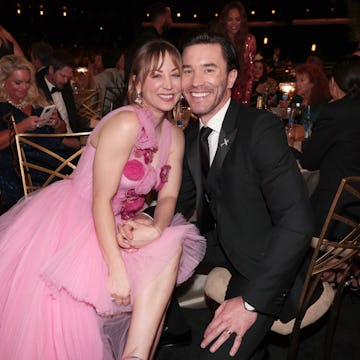 Christopher Polk/NBC/NBCUniversal/Getty Images
Kaley Cuoco and her boyfriend Tom Pelphrey celebrated the impending arrival of their baby girl over the weekend at an extravagant California affair with family and friends.
The pregnant Flight Attendant star, 37, and the Ozark actor, 40, ate, danced, and took in an incredible drone show as they enjoyed the ranch-set party, which included celebrity guests like actor Regina King, stylist Brad Goreski, singer Willa Ford, and former Bachelorette lead Ali Fedotowsky Manno.
"💓Last night we got to celebrate our future unicorn surrounded by incredible friends, family & animals in the most magical environment," Cuoco shared on Instagram Sunday. "Thank you to the very special group of people who made it a night we will all remember for the rest of our lives 🥹💓( 📷 @claudcraig )."
The epic event featured a band, personalized wine bottles and balloons, a Hollywood-themed cake, and an outdoor light show, complete with 400 drones. The display included images of a stork, a horse, and parents holding a child's hand, as well as the phrase "Baby Girl Pelphrey 2023."
"When you have a drone show at your baby 'shower' and it's the coolest, most beautiful thing on Earth," Cuoco wrote on her Instagram Stories, alongside a photo of the light display. "Just 400 drones, no big deal," she added.
Photographer Claudia Craig snapped photos of the shower, while party-goers shared their own videos from the event.
Cuoco and Pelphrey met at the premiere of Ozark's fourth and final season last April, and they say it was love at first sight. The pair announced their pregnancy in October after attending the Emmy Awards together.
"If I had met Tom even a week earlier, I don't think it would have worked," Cuoco, who was married twice before meeting Pelphrey, told Access Hollywood. "I needed that time to figure myself out. We met a little later in life and, boom, it was right where it was supposed to be."
"Over the moon for you three 💕," actor JoAnna Garcia Swisher commented on Cuoco's baby shower post, with Girls star Zosia Mamet adding, "❤️🦄❤️🦄❤️🦄❤️🦄❤️🦄❤️🦄."
Unicorn vibes, for sure.