Kate Hudson's Son "Might" Unfollow His Mom After She Posts Thong Bikini Photo
Her brother, Oliver, also weighed in on the cheeky pic.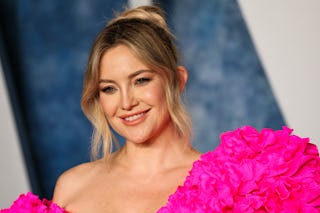 Leon Bennett/FilmMagic/Getty Images
Celebrities embarrass their kids just like us! Kate Hudson revealed that her son threatened to unfollow her son on social media after she posted a revealing — and cheeky — bikini photo.
In the photo, Hudson, 44, wears a thong bikini bottom and no top with her back to the camera. In another photo, Hudson faces the camera, topless, with her arms covering her chest and the popular book, Lessons in Chemistry, covering her face.
Hudson posted the cheeky pictures along with several others in a carousel post on her Instagram Hudson captioned the photo, "Suns out, buns (and huns) out ☺️☀️ #summerready."
While the Glass Onion star might be ready for summer, her son Ryder Robinson, 19, might not be quite there yet. He chimed in on Hudson's comment thread along with Hudson's brother Oliver Hudson after she posted the bikini photos.
The star's brother, 46, commented on the photo, writing, "Jesus no Kate!"
Kate responded, "Summers just begun Oliver ... it's gonna get wild. You should unfollow."
Then Kate's son Ryder joined in on the conversation, responding to his mom's comment by saying, "i think i might too."
Kate added to the fun by tagging her son and jokingly writing, "who is this?"
While some fans called Hudson's decision to go topless around her children "tacky," others praised her for embracing her body.
"You got it…flaunt it!" one user wrote.
Another said, "Are you kidding me? I have had a crush on you for more than 20 years and you are getting prettier every year!"
"I had a child around the same time as you & do not look like that shake that money maker!!!" one of her followers commented.
Hudson has another son, Bingham, 12, whom she shares with her former fiancé Matt Bellamy as well as a daughter, Rani, 5, with her fiancé Danny Fujikawa.
While the mom and son duo joked about their differences, Hudson and Ryder have a special bond.
The How To Lose A Guy in 10 Days star recently reflected on a touching moment she had with Ryder while talking with him on the phone after he left for college.
"He was in such a good place and I remember that time in my life when everything in front of you is possible," she said. "And I could see it in him and I was just so overwhelmed and I was going to cry."
Before Ryder left for school, he and his little brother had an adorable jam session in their garage while their mom documented the sweet sibling moment.
In the video shared on Instagram, Ryder plays electric guitar while his little brother sits in on drums.
"My boys 🥰 What more could a mom ask for other then boys who play rock and are hilarious at the same time ✅," wrote Hudson.
"What a good big brother," she said of Ryder. "We're gonna miss you big time 😢."