Keke Palmer Shared Adorable Photos From Her Babymoon As She Learns To "Take It Easy"
The Scream Queens actor noted that she's "really proud" of herself for resting.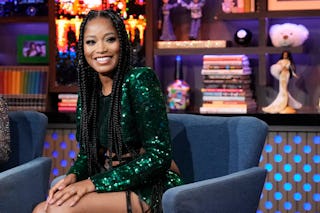 Bravo/NBCUniversal/Getty Images
When a pregnant person embarks on their "babymoon" it's usually their last chance to get out on a vacation before their lives are completely changed forever by a new bundle of joy. For Keke Palmer, her "babymoon" consisted of doing a whole lot of nothing, which helped her reflect on her busy life and how she needed to slow down and take it easy.
Sharing photos on Instagram, Palmer, 29, shared that she's "really proud of myself for resting this trip."
The carousel photo set included with a sweet shot of Palmer smiling with boyfriend Darius Jackson, 29, with whom she's expecting her first baby, as well as a photo of Palmer soaking in nature while grinning. Palmer also added a video of her lounging on a pier, holding her belly while feeding some fish.
In her Instagram caption, Palmer admits to being a naturally "antsy" person who is always on the go, loving the structure of a schedule. However, now that she's pregnant with her first child, she's learned to soak in a little leisure time.
"I am antsy by nature. I love having a schedule, even on vacation. I learned to at least schedule things leisurely so I have something to complete that's on brand with the theme of the season," the game show host wrote.
Her "theme" in this season of life is all about "rest," she explained.
"i will refrain from saying "soft girl life" or whatever new label the folks are using 😆🥴. && instead i'll just say that for me the theme is rest because, i can. i have spent many seasons sacrificing and i am quite fine with that..." the Nope actor wrote.
She then gave tribute her views on work, parenting, and life to her parents — especially her dad who taught her the art of sacrifice and taking care of others.
"i learned that from my father. from both my parents, but my dad takes the cake. i want to be just like him. his life is full and he has given so much. i don't think giving or sacrificing are bad things, it's who i am and that will never change. but every season we are meant to embrace something new," Palmer wrote.
She shared that she is now dedicating herself to learning "how to go slow" and noted that it "definitely doesn't mean my drive and passion will end, just transform and evolve through a different tool."
Concluding her caption, Palmer shared that her little one has begun to move, and she, like so many of us, think it feels totally weird.
"&& btw this baby moving thing is weirdddddd. slide four is how I feel about that ❤️," she wrote, referencing a photo of her making a hilarious and perplexed face.
Palmer announced her pregnancy in one of the coolest ways since Beyonce revealed her pregnant belly at the MTV Video Music Awards back in 2011 — during her monologue as she hosted Saturday Night Live.
"I'm especially glad to be here because there's some rumors going around. People have been in my comments saying 'Keke's pregnant, Keke's having a baby,' and I want to set the record straight," she said, ripping open her jacket to show her bare, pregnant belly. "I am!"