A Pregnant Keke Palmer Shares The Sex Of Her Baby
The actress shared that she and boyfriend Darius Jackson will welcome a son.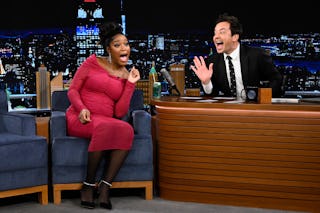 NBC/NBCUniversal/Getty Images
Keke Palmer is going to be a boy mom! The actress and TV personality appeared on The Tonight Show Starring Jimmy Fallon, where the two totally geeked about all the projects Palmer is working on, and more importantly, her pregnancy. While giving an update on her personal life, the soon-to-be mom slipped in a little announcement — she's having a boy.
"My baby is either going to be a Pisces or Aries," Keke told Jimmy Fallon when asked what her child's zodiac would be. "Pieces are known to be very deep. They're emotional creatures. So I just want to make sure I'm not too blunt for my baby boy."
Based on the numerical dates for both Aries and Pisces, it seems that the baby is due any time between late March and early April. Keke was pretty in pink with a full-length, form-fitted dress that bared her shoulders.
Palmer discussed her excitement about having the opportunity to host Saturday Night Live, and shared, "I just did not know it would be the same time that I was pregnant. And so I was like, "I guess I gotta say it.' I had to come out with it."
"There are some rumors going around, people have been in my comments saying, 'Keke's having a baby, Keke's pregnant,' and I wanna set the record straight—I am!" Keke announced during her introductory monologue for the SNL episode. "I gotta say, though, it is bad when people on the internet spread rumors about you, but it's even worse when they're correct."
Palmer was dressed in floor length trench coat, which she opened to reveal her bare belly, adding, "I was trying so hard to keep it on the down low because I got a lot of stuff going on."
"Honestly this has been the biggest blessing, and I am so excited guys, I'm going to be a mom!" she added.
Palmer and NFL player boyfriend, Darius Jackson, reportedly met at a Memorial Day party hosted by Issa Rae and Diddy in 2021. While the pair have kept their relationship private, they did confirm relationship rumors when Jackson posted on his social media channels regarding Palmer in August of 2021.
Keke did a heartwarming tribute herself in October, in honor of Darius' birthday. This will be the first child for them both.