Kelly Ripa And Mark Consuelos' Adult Daughter Is Moving Back In
Their 21-year-old adult daughter is under their roof again, and she's not knocking on their bedroom door before entering.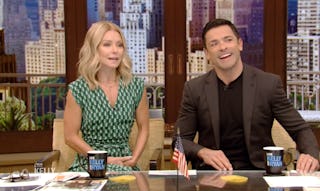 YouTube
Sorry to burst your bubble first-time parents, but your kids will drive you nuts even when they've reached adulthood — and some of them will continue to live under your roof from time to time. That's right: it's not over until you're dead. Mark Consuelos recently cohosted alongside his wife, Kelly Ripa, for their show, Live with Kelly and Ryan, where the pair shared that their 21-year-old daughter Lola has moved back home for her final college semester.
And even though she can vote and drink alcohol now, she's still not totally clear on her parents' boundraries. In fact, after she walked into her parents' bedroom without knocking, they threatened her with a 'freaky week.'
"Be warned Lola Consuelos, because this week's 'freaky week' isn't it?" Mark began while looking at Kelly. "You know what she does now? Doors closed in our bedroom, no knock. She just walks in and says 'Hey girls!'"
Kelly chimed in that Lola sometimes also says, 'Hey ladies!'
"So I said, 'Lola, I am very excited, and I don't want you to take this the wrong way, I'm very excited that you're home. We missed you, you are the heart of this family, you're so funny, and you're fantastic, but you gotta knock.'"
Kelly quipped, "Because, at this point, anything you walk in on is your problem."
Mark then announced that this week was "freaky week" for the couple, to which Kelly seemed to be unaware of but went along with the idea, saying, "Is this historically freaky week?" Mark responded, "It is now."
Sounds like they've found a good strategy for getting their kid to look for apartments to rent in the near future.
However, this isn't the first time the celebrity couple has shared stories about Lola walking in on them unannounced. They spoke on the same issue three years ago, where the pair recounts the time Lola walked in on them getting frisky on the morning of Father's Day.
After realizing she was interrupting a conjugal visit, she yelled, "Thanks a lot, you just ruined my birthday and my life. I used to see in color and now everything is grey!" the family then met downstairs with extended family for a very awkward Father's Day brunch, where Lola blurted out, "You're disgusting. You guys have no chill. You think you're 20 but you're not."
The hilarious run-in prompted a discussion with the rest of their children at the table about all the times they've walked in on their parents, to which Kelly and Mark concluded that nobody knocks anymore.
You'd think they'd of learned by now.
Kelly and Mark have been happily married for 26 years, and are also parents to Michael, 25, and Joaquin, 19. No word on what those two have seen of "freaky week."