Kelly Rowland Struggles With "Doing It All" As A Mom, Too
The Grammy-winning singer opens up about the motherhood juggle, self-care, and parenting alongside Beyoncé.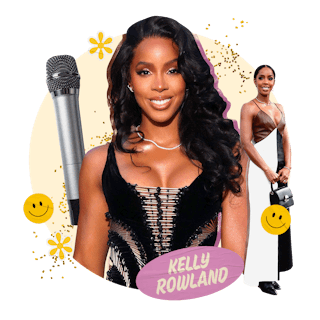 Ariela/Scary Mommy; Getty Images
Kelly Rowland is as busy as they come. The Destiny's Child singer and mom of two recently vacationed in Lake Como, stopped by the Essence Festival, rocked some incredible metallic looks at Beyoncé's Renaissance tour, and completed that seemingly never-ending back-to-school checklist.
Plus, just a few days ago, the Grammy winner was in Paris for Fashion Week (fitting for the recent recipient of the Harlem's Fashion Row Icon award).
As she tells Scary Mommy, it's all about "finding the right balance of 'doing it all.'"
"I think [that's] the hardest thing about being a mom," Rowland, 42, explains. "How can I be the best mom, wife, friend, and version of myself all at once? It can be overwhelming at times, but I've learned to become more patient with both others and myself, and remind myself it's OK not to be everything for everyone all of the time."
Rowland has two sons — Titan, 8, and Noah, 2 — with her husband of nearly 10 years, Tim Weatherspoon. She's been focused on returning to the school year grind while making sure she finds time for herself and her career, too.
"We all work together to get back into the swing of our routine," she says. "Sometimes it can feel impossible to keep up with everyone's schedules — from school work to practice on top of my own schedule — but we find a way to make it work together! I always find that with patience and the support of one another, our family manages to get the work done."
The multi-hyphenate mom, who's partnered with Airborne for their Immune Support gummies ("They're easy to grab, and have an unbeatable amount of vitamin C"), sat down for a few minutes to fill Scary Mommy in on finding balance in motherhood, prioritizing self-care, and leaning on her "sister," Beyoncé.
Scary Mommy: What's the hardest thing about motherhood? And what's the best?
Kelly Rowland: I think the hardest thing about being a mom is trying to find the right balance of "doing it all." ... Even at times when it does feel like a lot, I get to see all of life through the eyes of my boys and that's the big reward to all of this. Each day they teach me something new that better helps me become the mom I've always wanted to be for them.
SM: How do you make time for yourself, your kids, and your spouse? It's hard to balance it all!
KR: It's hard to make time for yourself, but I think it's so important that we're kind to ourselves. We're all trying our best — the moms and dads out there get me, I'm sure — and sometimes a few minutes to ourselves can make a world of difference.
It's OK to be a little bit selfish and take an hour to go get your nails done, or run that errand you've been putting off, or make that workout class. Kindness can go a long way, and it's important to remember that action when it comes to both yourself and others.
SM: Self-care is so important. What's your favorite thing to do during downtime or time away from the kids?
KR: I love a good face care routine, or any type of beauty regimen for that matter. There's nothing better than giving yourself a little TLC with some face masks, hair oils, or a mani-pedi moment.
I've learned to become more patient with both others and myself, and remind myself it's OK not be everything for everyone all of the time.
Kelly Rowland
SM: How do you maintain a steady at-home life while also focusing on your career and other opportunities?
KR: I strongly believe that having patience, for both you and your kids, helps you feel centered during the craziness of it all. Making sure to stop and take a minute during a busy school week to be together as a family whether that's week-night dinners, or downtime before bed is key in making sure we're all getting that quality time as a family in.
In the same vein, making sure I'm putting myself first some days focusing on work or getting a workout in planning a date with my husband. Looking out for myself is key in trying to maintain it all the best I can.
SM: Have you and Beyoncé relied on each other while raising your children? It's a beautiful experience mothering alongside someone who's known you since you were both young women.
KR: It's something that really warms my heart knowing that not only have we created beautiful bonds as sisters over the years, but now we get to explore this next chapter in our lives in parallel with one another. Of course, it's exciting that we get to watch our kids grow together, but we're also growing as moms too, and that's something I will always cherish.
SM: From your days with Destiny's Child to your life as a busy mom, what is one constant (a routine, affirmation, workout) that has helped you stay focused?
KR: I think maintaining a healthy lifestyle is something that has remained a constant for me throughout my life. During my time on stage, making sure I'm eating right, working out, and staying in shape is important just so that I feel like I can keep up, hold my endurance, and make sure I'm being the best performer I can be.
In my personal life, it's the same thing. I want to be able to keep up with my kids and be the best mom I can be, so I always try to instill a healthy mindset in everything I do, it helps me stay focused and feeling good when everything gets busy.
And, as I share often, words of affirmation is part of my daily routine. Not just for myself but I like to give encouragement every morning to my children by leaving them messages and words of encouragement and affirmation.
SM: And lastly, what media — podcasts, TV shows, films, music — are you into right now?
KR: I love The Terrell Show and Sex Education. You should get into both if you haven't seen them. As for music, I am always listening to Victoria Monét's album "Jaguar II."
This interview has been edited and condensed for clarity.