Kristen Bell Tells Her Kids That Her Mental Health Meds Are 'Broccoli For My Brain'
'The Good Place' alum shared the creative way she is teaching her two daughters about mental health and regulating their emotions.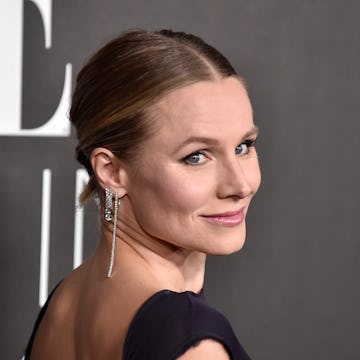 Rodin Eckenroth/FilmMagic/Getty Images
Even for the most regulated of parents, talking to kids about mental health can be tough — but Kristen Bell isn't shying away from the conversation with her two daughters, Lincoln, 9, and Delta, 8. In fact, she came up with an incredibly simple comparison for mental health medication, calling it "broccoli for my brain" after one of her kids saw her taking her meds.
"I think I described the pill that I take at night when they saw me take it as broccoli for my brain," Bell, 42, told TODAY. "I felt like that was a decent comparison. 'This is what keeps my brain healthy. Not everybody needs this.'"
Bell also noted that her two children are very aware of their dad Dax Shepard's sobriety journey. Shepard, 48, first started getting sober in 2004.
"My husband has been very open and honest about his recovery," Bell noted. "[Our daughters] know what alcoholism is, they know what different kinds of drugs are and they know why some are illegal and why some aren't, and they know exactly what happens in an AA meeting, (and) they know the 12 steps."
Bell explained that she feels that by being honest with their daughters, she and Shepard are setting a good example of how to check in with yourself and manage overall mental health.
"I think both my husband and I have been honest about our struggles, because we want to set an example for our girls. That vulnerability should be respected and encouraged and it will bring you closer to people."
Bell also talked about how using breathing exercises has been monumental in helping her daughters not only regulate their own mental health, but her own as well.
"With my girls, at their school they learn a bunch of different breathing techniques, which we do at home," Bell noted. "So if they're getting really panicked, I go, 'Do you need to regulate? Do you need help?' And we'll sit down on the floor and do a box breath."
This isn't the first time Bell has been candid about her own mental health issues. In 2019, the Frozen star talked about how she sometimes feels the shame or pressure to be bright and bubbly like her character Anna, and how medication for depression and anxiety has helped her negate that unrealistic expectation.
"I'm like 'bubbles, glitter!'" she joked. "No, it's not always that way. I am someone who takes medication for her anxiety and depression. I am someone who has to check myself and sometimes — if I'm feeling really low — make a checklist of good and bad things in my life to see if it's my mental state or if we really have a problem."
This seems to be a method Bell still uses. "My personal technique is if the anxiety is infiltrating every other area of my life, then I know it deserves some extra attention," she told TODAY. "For instance, if I can't stop thinking about an issue with my kids while I'm at work, or I'm more anxious when I'm at work that's how I know that it's not acute and that it's a more broad situation."
Keeping on fighting the good mental health fight, Bell.