Kristin Davis Reveals She's Been "Ridiculed Relentlessly" For Her Face Fillers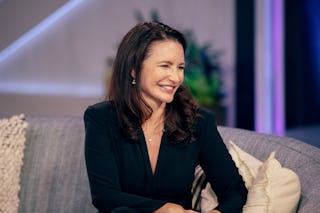 NBC/NBCUniversal/Getty Images
Kristin Davis recently returned to HBO to reprise her role as the beloved Charlotte Yorke for the Sex And The City reboot And Just Like That... after 11 years. And while the fanbase was thrilled to see what Charlotte has been up to for over a decade, some trolls on the internet immediately went in on Davis' looks, speculating about her appearance and the work she may have had done on her face.
Despite being in Hollywood and knowing that public criticism comes with the territory, 58-year-old Davis admitted that the cruelty has truly impacted her emotionally.
In an interview with The Telegraph, Davis revealed that her first experience with facial fillers was the popular injectable, Botox, saying she was "super excited" to not have lines along her forehead.
Davis said she didn't do any other procedures "for a long time," until she eventually turned to other facial fillers.
"I have done fillers and it's been good and I've done fillers and it's been bad," she said. "I've had to get them dissolved and I've been ridiculed relentlessly. And I have shed tears about it. It's very stressful."
Davis also admitted that she hasn't had any filler work done in quite some time, saying she "can't keep it up" with them due to her busy schedule.
She added that people also place a lot of judgement on the procedures when they don't turn out as planned.
"You're trusting doctors [but] people personally blame us when it goes wrong — [as if] I jabbed a needle in my face…" Davis said, referring to her lip fillers.
"No one told me it didn't look good for the longest time," she continued. "But luckily I do have good friends who did say, eventually. The thing is you don't smile at yourself in the mirror. Who smiles at themselves in the mirror? Crazy people."
In 2022, Davis admitted that it is "extremely stressful" to get older in the public eye.
"It can be extremely stressful to be aging and to be compared to your much, much, much younger self," the she told NewBeauty.
Seriously, Davis hadn't reprised her role as Charlotte for 11 years! That's a lot of life lived. Who wouldn't have a wrinkle or two? How could people possibly give Davis a hard time about looking older after an 11 year hiatus from a role?
Then, in order to try and turn back the clock, Davis' invests in some facial fillers (some of which turned out not how she wanted) and the internet still reams her out.
Damned if she does, damned if she doesn't.
"If I was from a regular life, I would feel fine; I would feel great! I'm healthy, I'm strong, I've got this little 3-year-old son, and I carry him around and it's all good — but, no, I'm on television, where every bit of my physical being is analyzed," she continued. "That part was always very stressful and difficult for me, because, as much as I can look back on my life and think, 'Oh, I looked great then,' you never think that at the time. I guess no one does."
So sadly true.
Davis is far from the first woman in Hollywood to be ridiculed for her aging — and not even the first of the Sex and the City stars to be ciriticized for any action they take (or don't take) in regards to getting older. Co-star Sarah Jessica Parker has spoken out about comments regarding her gray hair and how she's aging multiple times — as has the show's creater, Michael Patric King.
"There's so much misogynist chatter in response to us that would never. Happen. About. A. Man," she told Vogue in 2021.
King, added, "There were a lot of positive reactions, but one bitchy response online was people sharing pictures of the Golden Girls. And I was like, 'Wow, so it's either you're 35, or you're retired and living in Florida. There's a missing chapter here.'"