Strap In For Everything We Know About 'Love Is Blind' Season 4
Everyone's pretty sure by now that love isn't blind, but let's quadruple check.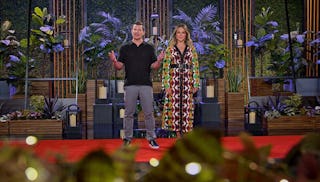 Netflix
Love is Blind is the new gold standard for wacky reality television trash that makes our lives better (at least until we binge it and it's over). And now, after devouring Season 3 and shaking our heads at the reunion show, it's time to move on to a new batch of hopeful lovers who are about to get their worlds rocked.
Netflix has just announced that Love Is Blind is returning for Season 4, this time in the Northwest and of course with a whole new cast of characters. The show will still be hosted by the hot and famous couple Nick and Vanessa Lachey, who seem determined to continue an experiment that keeps ending in 95% heartbreak and drama. But no one can or will turn away! It's too fun.
Here's the deal if you don't know it already: a group of men and women meet each other in "pods" — rooms were you can hear each other but can't see each other. Some fall in love over the course of a few days and choose to pop the big question. These couples move on to meet each other in real life, first on a romantic vacation and then in a much more real-life situation of working, living, and planning a wedding together. Will any couples say "I do" in the finale? Watching is the only way to find out.
Is there a Love Is Blind Season 4 trailer?
This week, Netflix announced that everyone's heading back to the pods with a brief glimpse of the coming show, though there's not a lot of meat to it.
In the first 60-second teaser trailer, Netflix didn't show any of the contestants, but they did focus on the show's rabid fanbase, borrowing clips from social media platforms like TikTok of viewers taking in key moments.
The trailer mixes clips of ordinary viewers with celeb viewers like Drag Race winner Trixie Mattel.
"Oh my gosh, they both said 'I do'" one viewer exclaims while watching the show — and it's relatable!
At the very end of the video, we do see a tiny clip of two contestants getting engaged and get a voiceover from the one of the two: "I set this bar crazy high," the person says. "I just hope it lives up to what we're hoping it will."
We hope it lives up to it as well!
When does Love Is Blind Season 4 premiere?
The biggest piece of news we learned is that the show will drop on Netflix on March 24 — just a month away, y'all! And just like the last few seasons, it will become available a handful of episodes at a time over a series of weeks.
Episodes 1-5 will premiere Friday, March 24; these will focus on life in the pods and the honeymoon period afterward when everyone meets in real life. Episodes 6-8 air on March 31, where everyone usually goes on a tropical vacation to get to know one another better. Episodes 9-11 become available on April 7, where everyone moves in together and meets the family, and Episode 12 — the wedding episode — ends the whole thing on April 14.
Where does Love Is Blind Season 4 take place?
The newest season of everyone's guiltiest pleasure will go west and take place in Seattle. Season 1 went down in Atlanta, followed by Season 2 in Chicago and Season 3 in Dallas.
Who is on the Love Is Blind Season 4 cast?
The public has no clue who's on the cast yet — we didn't even get to glimpse any faces on the teaser trailer. Only time — or Netflix — will tell.