Maria Menounos Is Expecting Her First Baby After A 10-Year Journey
"It's been a long time. We've done everything — I mean, literally everything," she said.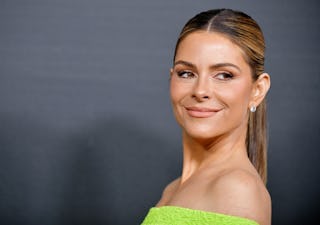 Rodin Eckenroth/Getty Images Entertainment/Getty Images
Maria Menounos is going to be a mom! The 44-year-old TV host and actress is welcoming a new bundle of joy with husband Keven Undergaro after a decade-long journey trying to have a child.
"Just after a decade of trying everything, we are so grateful to the beautiful family helping us conceive our baby," Menounos told PEOPLE. "Keven, my dad and I are all beyond excited for this soul to come into our lives. What a blessing."
Menounos shared a heartwarming video clip from her appearance on Live With Kelly and Ryan where she spilled the beans about the baby.
"So we had a lot of plans. We were going to go to Greece in the summer. We're having to move that up because we're having a baby," the "Heal Squad" podcast host revealed.
"I had to share it here first because you guys are my family, you guys have been on the journey and I'm so grateful," she said as she started to cry, adding that she was feeling "emotional" and "super excited."
This has not been a short journey for Menounos and Undergaro, 55. In 2016, Menounos shared on social media that her IVF treatment to become pregnant had been unsuccessful. Since then, it appears that the actress and her husband were still trying but, rightfully so, keeping their journey private.
Kelly Ripa asked how long the couple had been trying to grow their family.
"Almost like a decade guys," Menounos said. "It's been a long time. We've done everything — I mean, literally everything. They've tried to get me pregnant, that didn't work. Keven had a surgery, that didn't work. He's hung me upside down like a chicken, that didn't work!"
She then mentioned that a couple of her famous friends helped her in her struggle by providing advice and connecting her with some of the best in the business.
"Zoe Saldana and Kim Kardashian have been so helpful to me in this journey and they both gave me all their advice and people," she told the talk show hosts.
Menounos added, "And Kim especially gave me this wonderful lawyer named Andy and he found me this woman, Stephanie, who helped me find our surrogate."
The EveryGirl's Guide to Life author expressed her deep gratitude for everyone that had been there to provide help for herself and Undergaro.
"We're just so so grateful because these people really help you bring life forward and without them we wouldn't have been able to do this," she said, pointing out her husband in the crowd.
She then gushed about her surrogate and her family, noting that they are not part of this baby's "extended family."
"Our surrogate and her family are literal angels," she said. "I'm so grateful that we're gonna have this extended family our baby will be part of, and we're just so grateful to everybody who's helped us along the way."
She concluded, "This is surreal. This is wild. I can't believe I'm telling everybody this right now."
Congratulations to the parents-to-be!