Kelly Ripa's Husband Mark Consuelos Will Replace Ryan Seacrest On 'Live With Kelly'
"Welcome home, or to the contractual obligation phase of our relationship," Ripa wrote to her husband about his new job.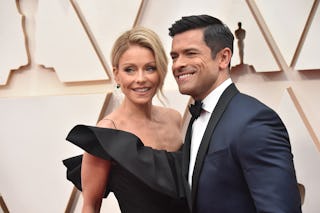 Jeff Kravitz/FilmMagic, Inc/Getty Images
After six seasons co-hosting the morning show — Live With Kelly and Ryan — Ryan Seacrest announced this morning that he will be leaving his longtime post alongside Kelly Ripa.
Some fans may wonder who could ever fill Seacrest's seat, but thankfully, ABC found the ultimate counterpart for the soap star turned talk show host that will guarantee on-screen chemistry — her husband of 26 years — Mark Consuelos.
At the beginning of their show, Seacrest, 48, took a moment to tearfully announce his departure.
Ripa, 52, was also holding back years.
Seacrest began, "So, Kelly and I have some news here," adding, "This is something she and I have been talking about for a long time, and it was a tough, tough decision."
After sharing the news of his exit from the show, Ripa grabbed Seacrest's arm and said, "I get it, you are a gem, you are one of my best friends, and I said, the greatest part of this entire experience has been [that] you've gone from being a friend to a family member, you are family to us."
Seacrest initially signed on to cohost on the show for three seasons but later decided to extend his time and stay for six.
"He was supposed to be here for three years. We were like, 'Oh don't be ridiculous — you already moved your sofa here!'" Ripa explained as Seacrest responded, "But three turned into six because of the genuine fun of being on this television show every hour of every day."
The radio show host then explained that once American Idol returns this spring, he will "head out to the West Coast and host that show."
After reminiscing about his time on the morning show, Seacrest smiled. "We have some really exciting news to add to this," he said coyly.
"This is the shocking twist of the whole thing," Ripa chimed in. "Because we are so aware of the importance of continuity and consistency and like, the familiar vibe that we all have here, it only makes sense to not just our viewing audience at home but our viewing audience here within our staff, our support system, our extended family, to bring in somebody that we know and love and who's really always been here."
"Really the only person I could think of that is capable of holding your torch the way you have held it and that would be my husband, Mark Conseulos," Ripa continued as the crowd broke out in cheers.
Ripa and Consuelos, who wed in 1996, share three kids — Michael, 25, Lola, 21, and Joaquin, 19. They met on the set of All My Children.
Ripa has hosted the morning show since Kathy Lee Gifford left in 2001. She formerly co-hosted with Regis Philbin. Consuelos has been a guest host as recently as last month, when the couple joked about navigating privacy with adult kids.
Seacrest joked that Consuelos told him "he's got a list of things to address" in his first episode when he joins "in a few months."
Ripa mentioned that her husband wasn't even aware that the announcement was coming out. Seacrest then revealed that he spoke to the All My Children alum a few days ago to discuss the news.
"I talked to him over the weekend — he's excited!" he declared. "He's not sure for how long, but he knows the sign is changing."
Consuelos posted a congratulatory message to Seacrest on his Instagram, thanking him for being "like a brother" to him and noting how excited her was to cohost alongside his wife.
"Congrats on your next chapter @ryanseacrest. I love you like a brother. I know I have some big shoes to fill … well actually they're only a size 9, but you know what I mean," Consuelos joked in the caation.
"@kellyripa my ride or die. This is going to be amazing! I can't believe after all these years of listening to you talk for free, I found a way to get paid for it. Is this a great country or what? ❤️"
Ripa also shared her thoughts and feelings, hilariously, on Instagram.
"OK NOW we're empty nesters," she wrote. "When your friends become work mates become family. Congratulations @ryanseacrest on surviving six winters in NYC! I'm proud of you and am forever in your corner. And @instasuelos welcome home, or to the contractual obligation phase of our relationship."
While Consuelos' stint wont start for another few months, he will be stopping by during Friday's show for fans to get a taste of what's in store as the show enters into a new era with Ripa and Consuelos as cohosts.