Martha Stewart Is A Cover Girl For The 2023 'Sports Illustrated' Swimsuit Issue
The 81-year-old makes history as the oldest cover star of 'SI Swim.'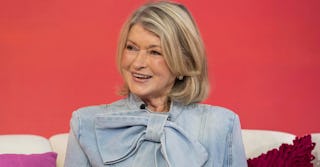 NBC/NBCUniversal/Getty Images
No one is going to have a better start to their week than Martha Stewart. Sorry, but it's game over for the rest of us.
Stewart, the queen of home and hospitality, will grace the cover of the 2023 Sports Illustrated's Swimsuit Issue. At 81 years old, Stewart will make history as the oldest cover star for SI Swim. And spoiler alert: she looks f*cking amazing.
Stewart will joined by three other celebrity swimsuit models — Megan Fox, Kim Petras, and Brooks Nader — who will receive their own covers of the popular SI issue.
"When I heard that I was going to be on the cover of Sports Illustrated Swimsuit, I thought, Oh, that's pretty good, I'm going to be the oldest person I think ever on a cover of Sports Illustrated," Stewart told the magazine. "And I don't think about age very much, but I thought that this is kind of historic."
"Age is not the determining factor in terms of friendship or in terms of success, but what people do, how people think, how people act, that's what's important and not your age," she added.
Stewart was photographed by Ruven Afanador in the Dominican Republic in a variety of one-piece suits from top designers like Yves Saint Laurent.
"I'm sort of shaking," Stewart admitted during the live announcement of her cover on Today. "Because it's odd to go to an island and then get changed into nine different bathing suits, and it turned out okay."
"It turned out more than okay!" Today host, Hoda Kotb, replied.
Stewart revealed that the plan for the author and TV host to grace the cover of Sports Illustrated Swim started back in November 2022. "... that was kind of a request that I've never had before, and to be on the cover at my age was a challenge, and I think I met the challenge."
Stewart told Today that her stunning cover was a testament to "good living."
"I think that all of us should think about good living, successful living, and not about aging. The whole aging thing is so boring," she said.
Stewart explained that she started a hospital in partnership with Mount Sinai called The Center for Living. "It's all about growing old gracefully, and we don't think about aging, we think about successful living," Stewart explained.
"We try to instill in people the desire to eat well, to exercise well, to have friends, to have pets, to do all the things that make you happy as you get older."
She also credited her mom for her body confidence, noting that her mom was still rocking two-piece bathings suits after giving birth to four kids. "That's pretty fabulous," she said with a smile.
Stewart hopes this monumental moment in Sports Illustrated history helps empower women who, in Stewart's opinion, have had a "tough time" recently.
"With the pandemic and the "Me too" movement ... we've really sort of been battered around and taking care of the families, it's been tough with the responsibility of working at home," she said. "So, I hope it does give people, women especially, and opportunity to revisit their lives and get with the picture."
Her trick to keeping that glow at 81? Regular check-ins with her doctor and fresh air.
"I have my regular checkups; they're on the calendar at least six months in advance," Stewart told Yahoo! Life in April. "I eat extremely well … I live on a farm, which I think is one of the healthiest lifestyles there is because when I get up in the morning, I can go outside and breathe fresh air."
"I can plant some flowers or pick some vegetables and make a green juice that is utterly delicious, which really helps with the maintenance of good skin, good hair and strong bones. It's just important for me to look good and feel good," she said. "My career requires it."
See all of Martha's bombshell swimsuit photos here.