7 Reasons My Father's Dragon Should Be Your Next Family Movie
Director Nora Twomey and stars Jacob Tremblay (Room) and Gaten Matarazzo (Stranger Things) let us pick their brains about the new Netflix film.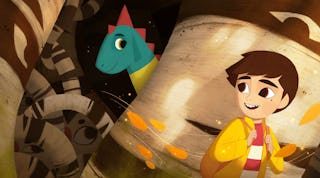 Netflix
It's a familiar scene for any parent: You've got the popcorn ready, the couch is calling, and the family is assembled. Movie night is about to go down, and then… chaos. No one can agree on what to watch. It turns into a downright battle, with everyone drawing lines in the proverbial sand and picking sides. It's enough to make you dread the very idea of trying it again. But this weekend, you have the perfect excuse to give family movie night another shot: My Father's Dragon on Netflix.
Based on the 1948 children's book of the same name by Ruth Stiles Gannett, the animated movie has a little something for everyone: tons of adventure, stunning visuals, a best friend story, and big lessons about big feelings. It follows a boy named Elmer struggling to cope after moving to the city with his mom. He runs away, finding himself on a truly fantastical journey in a fascinating land called Wild Island.
Need more reasons to watch? Scary Mommy spoke with some of the talent behind the film — director Nora Twomey, Gaten Matarazzo (Stranger Things), and Jacob Tremblay (Room) — to bring you seven reasons to make this your next pick for family movie night.