The Never Have I Ever Season 4 Trailer & Release Date Have Arrived
"Buckle up, nerds! It's senior freaking year!"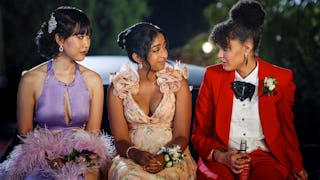 Netflix
Never Have I Ever will premiere its fourth and final season on June 8, and that date just can't come soon enough for NHIE fans. To help ramp up the fervor and anticipation, Netflix has released the series' first Season 4 trailer. And, damn, is it a goodie! Get ready to live through senior year alongside first-generation Indian-American teenager Devi Vishwakumar (Maitreyi Ramakrishnan). Of course, expect all the dramatic and hilarious twists and turns fans have come to love from the wildly popular Netflix comedy. In the words of the trailer, "Buckle up, nerds! It's senior freaking year!"
Everyone loves a good coming-of-age story. From The Wonder Years to Growing Pains to more recent hits like Gilmore Girls, Fresh Off The Boat, or Ginny and Georgia, viewers have always loved watching an affable kid grow and blossom. Never Have I Ever is no different. For three seasons already, fans have enjoyed watching Devi navigate life at home and in school as she bucks against her heritage and tradition while (sometimes accidentally) making a name for herself in school. Both a do-gooder and a hornball, Devi chases good grades like she chases boys: with all her might.
But what do we really know about Never Have I Ever Season 4? Keep reading for all the deets.
When will Never Have I Ever Season 4 premiere?
Along with the high-energy Season 4 teaser trailer, Netflix shared another wildly important scoop: Never Have I Ever returns on June 8. Viewing party anyone?
Who's returning to NHIE for Season 4?
Worried you saw the last of Paxton when he headed to college in Season 3? Think again! Not all break-ups are permanent, ya know. Since he was the only goodbye from the main cast, it's safe to say you'll see the return of everyone from Devi's girl gang and all your favorite characters from home and school.
What happens to Devi and Paxton in Season 4?
It's too soon to say for sure. Fans already know Devi is boy-crazy, but she's also pretty loyal to the people she loves. Yet, Netflix is teasing the arrival of a new boy at school, Ethan, who will capture Devi's interest. And, obviously, Paxton is in college now. Could Ethan or Ben (the crush we've been led to believe Devi swiped her v-card with) be more permanent fixations for Devi? Or are they simply distractions from her true love, Paxton?
Netflix is also teasing a wedding for the upcoming season! Could it be Devi's? Um, highly unlikely. Guesses run the gamut, from Devi's cousin Kamala to Dr. Vishwakumar and Eleanor Wong. Still, a wedding certainly means the romance will be turned up a notch in Never Have I Ever Season 4. You know you can't wait!
Let's not forget: Mindy Kaling is an executive producer for the show. If The Mindy Project taught us anything, it's that Kaling ~loves~ a plot twist and a good old-fashioned rekindling of romance. Anything is possible with Kaling at the helm.