The Cure For Bad-Weather Days
24 New Kid-Approved Movies & Shows Coming To Netflix In April
Forget spring showers, this year, April is bringing a crop of new shows and movies for the kiddos on Netflix.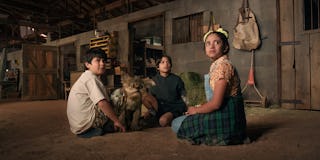 Courtesy of Netflix
Attention moms, Netflix is here to save your sanity this April with a crop of family-friendly titles perfect for keeping the kids entertained during spring break. This month's selection of kid-approved movies and TV shows include classic titles like the '96 version of Matilda and soon-to-be-classics like the upcoming Netflix original film Chupa. There's plenty for the littles in your life, too, thanks to new seasons of CoComelon and Ada Twist, Scientist.
Even though spring means there's more time to spend outdoors enjoying the sunshine with the family, there will still be days when a little screentime is in order. Whether it's raining, the kids are bored, or you just need a well-deserved break, Netflix has your back. Each month, the streamer comes through by serving up quality entertainment that you can feel good about letting your kids watch.
Whether you're looking for something educational for your preschooler or trying to find something suitable for your tween who keeps bugging you about watching The Last of Us (psst, the new season of Sweet Tooth is the perfect alternative), Netflix's April kids' lineup is stacked with options. And hey, with beloved titles like Hotel Transylvania hitting the streamer, you might be able to persuade the whole family to join you for a movie night!
Check out all of Netflix's new family and kid-friendly options below.
What's New On Netflix in April? The Highlight Reel
Magic Mixies, Season 1 — April 3
There's a good chance your kids already love the toys; now they can watch the animated series, too. Magic Mixies is a brightly colored, joyful cartoon about Sienna, a young girl who finds a secret entrance into an enchanted world. As she explores the unfamiliar realms around her, she finds herself embarking on adventures and encountering lots of those adorable Mixies along the way. If your kid already has a Mixie collection, prepare to win some major cool points when you queue up the series for them.
Chupa — April 7
This charming Netflix original will give parents E.T. vibes. Chupa follows a 13-year-old named Alex, who is visiting his extended family in Mexico for the first time. While there, he discovers a chupacabra cub under his family's porch. Soon he and "Chupa" become friends, but when Max realizes people want to get their hands on the not-so-mythological creature, he sets off on a mission with his cousins to keep Chupa safe.
The Boss Baby: Back in the Crib, Season 2 — April 13
Boss Baby remains a kid favorite, and Season 2 of Back in the Crib is sure to keep the younger members of your family entertained. In Season 2, the babies are starting a new business — and causing the usual amount of mayhem along the way.
Mighty Morphin Power Rangers: Once & Always — April 19
Prepare to feel both very nostalgic and very old because, in celebration of the 30th anniversary of the original Power Rangers, Netflix has reunited most of the original team to save the world one more time. The movie begins with Rita Repulsa killing the original Yellow Ranger, Trini Kwan (the actor, Thuy Trang, died in a car accident in 2001). This leads her daughter, Minh Kwan (Charlie Kersh), to team up with Trini's old friends to stop Rita once and for all. Sadly, original Pink Ranger Amy Jo Johnson didn't return for the movie, but prepare to point out OG Power Rangers David Yost, Walter E. Jones, and Steve Cardenas to your kids.
More Family Movies & Shows Coming to Netflix in April
Dr. Seuss' The Cat in the Hat — April 1
Dr. Seuss' The Lorax — April 1
Hotel Transylvania — April 1
How to Train Your Dragon — April 1
The Land Before Time — April 1
Matilda (1996) — April 1
Puss in Boots — April 1
Shark Tale — April 1
Shrek Forever After — April 1
Spider-Man — April 1
Spider-Man 2 — April 1
Spider-Man 3 — April 1
Thomas & Friends: The Mystery of Lookout Mountain — April 1
CoComelon, Season 8 — April 10
The Nutty Boy, Part 2 — April 16
Oggy Oggy, Season 2 — April 17
Ada Twist, Scientist, Season 4 — April 22
Sharkdog, Season 3 — April 27
Sweet Tooth, Season 2 — April 27
InuYasha, Season 6 — April 28
Happy viewing!