People Are Calling Out Prince William & Kate For A New Playground That Charges Parents $20 Per Kid
But are they really responsible?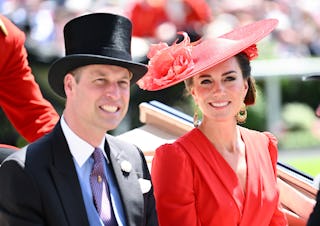 Karwai Tang/WireImage/Getty Images
Parents are up in arms over a new local play park that opened at Windsor Great Park in England after the park revealed that parents would have to pay to play (or rather, watch their kids play). Some have called Prince William and Kate Middleton totally out of touch while others wondered if King Charles himself could subsidize the pricing.
But is the Royal family actually to blame for this?
The playground, known as Adventure Play, is located on the border of Berkshire and Surrey. They are are charging £12 (or $15.50) per parent of kids under the age of 2 years old, and for any child between the ages of 2 and 17, parents will need to cough up another £16 (or $20.60). And the tickets are only good for two hours of play.
The park includes several wooden playhouses, bridges and slides.
"Opening Tuesday 11 July, tickets for Adventure Play in Windsor Great Park are now on sale," a Windsor Great Park spokesperson said in a statement. "Book online in advance only, and park for free with your Adventure Play entry ticket."
Oh good — free parking!
"But this is not just for the children," the statement continued. "Whether they want to climb among the trees or explore the amazing giant acorns, you can be right there, feeding their imagination and watching their confidence grow. Because this is play like you remember it — getting close to nature, challenging the body and stimulating the senses. All are welcome, whatever their age, need or ability."
Well, all are welcomed if you have the funds.
Despite the unique and impeccable design of the playground (and trust, it's absolutely stunning), parents lambasted the idea of charging tickets for a playground on the Windsor Great Park Instagram account.
"I just logged on to book and could not believe the cost. I run a forest school and I charge £14 per child for two hours and we cook on the fire and explore and make nature crafts (and adults are free!). I can't believe a playground is charging £16 per child and £12 per adult. It looks fab but that is really overpriced," one user wrote.
Another echoed, "I can't believe you're charging £12 for an adult!! Free parking should be a given when charging £16 for the child. How long are the sessions? It's such a shame that you're charging so much for adults and then saying that children must be accompanied by an adult 🤪" they wrote.
"Outrageous prices and such a shame when I know so many families that were excited to visit but now can't afford to 😒"
Another said, "How could you guys get this so wrong?! Whoever came up/approved this pricing structure needs a reality check and quite obviously couldn't care less about children from struggling families. THERE IS A COST OF LIVING CRISIS. Read the room 👀"
After the news of ticket prices spread across social media, several people stepped up to defend Prince William and Kate, who actually had little to do with this entire project despite living a stone's throw away from the new structure.
Adventure Park is actually a project from the Crown Estate which is a collection of lands and holdings in the United Kingdom belonging to the British monarch as a corporation sole, making it "the sovereign's public estate", which is neither government property nor part of the monarch's private estate.
The Crown Estate is not the private property of the King. So despite William and Kate's proximity and the Windsor name similarities, it's unlikely that the Prince and Princess had much to do with this ticket pricing, if anything at all.
After a slew of negative feedback, calling out the estate for their seemingly complete lack of knowledge when it comes to the financial realities of so many families, a spokesperson for the park noted that lower prices are not completely off the table.
"As with everything that we do, we will keep our prices under review."