Watch Olivia Rodrigo Surprise Jimmy Kimmel's Kids On The Way To School In Adorable Video
The "Driver's License" singer posed as a hitchhiker.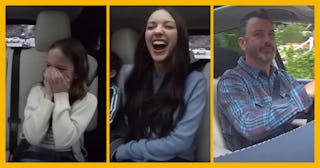 Jimmy Kimmel Live / YouTube
Late-night talk show host Jimmy Kimmel surprised his two kids — 9-year-old daughter Jane and 6-year-old son Billy — in quite possibly the coolest way ever.
While on a seemingly normal morning drive to school, Kimmel and his wife, Molly, asked the kids some questions about school with Jane admitting that she doesn't particularly love going at all.
As Kimmel came around a curve, he spotted a hitchhiker on the ride of the road, sticking their thumb out. That hitchhiker just so happened to be pop sensation and "Vampire" singer Olivia Rodrigo.
Jane and Billy happen to be huge Rodrigo fans — Kimmel said that the kids listen to her album Guts on the way to school each morning.
When Jane spotted the singer as the hitchhiker, she rightfully freaked out.
"What a minute," Jane said while covering her mouth in shock. "Oh my god. Billy, that's Olivia Rodrigo."
Kimmel pulled over the car and Rodrigo got into the backseat, sitting between to the two Kimmel kids.
"Hey! Do you guys mind if I hitch a ride?" she asked as Jane continued to be starstruck.
They discussed their favorite Rodrigo songs, including the single, "Get Him Back," which Billy admitted is his favorite song.
"What's the song we love so much of Olivia's?" Molly asked.
"The 'Get Him Back' song," Billy responded.
"He wants to 'get him back' for you," Molly told Rodrigo before asking Billy, "And what do you want to do when you get him back?"
"Punch him in the penis," the 6-year-old replied before the car erupted in laughter.
The Kimmel family and Rodrigo then jammed out to the songs "Ballad of a Homeschooled Girl" and "Get Him Back" off her new album, Guts.
After the jam session came to an end, Kimmel took the break as an opportunity to embarrass his two elementary-aged kids by sharing a kiss with Molly.
"You know what's funny, when you sing about kissing, Olivia, what our kids love more than anything is when we kiss each other, right?" Kimmel said sarcastically before planting a kiss on Molly.
The kids screamed and screeched, covering their eyes and yelling out, "EW!" as Rodrigo cackled in the middle seat. The couple went in for another kiss, prompting the kids to, again, gag at their parents' affection.
Before dropping the kids off at school, they gave Rodrigo a considerable squeeze, sad to have to end their carpool jam session.
"Have a great day!" Molly yelled. "It's all downhill from here."
The gang then joked about Rodrigo's dangerous hitchhiking and her confusion over if this interaction was Carpool Karaoke or not.
Kimmel said at the end, "Oh no, we're going to get sued" — a nod to the popular segment from the now-canceled Late Late Show with James Cordon.
Watch the entire video here.