Disney's Dole Whip Is Coming To Grocery Stores
You'll no longer need a park pass to consume this crowd favorite.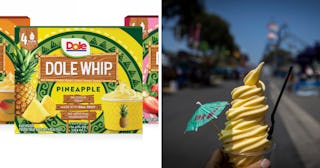 Dole / Getty
Some people flock to the Disney parks to ride rollercoasters, meet their favorite character, or simply take in the pure magic that is all around them. And then some people come just for the Dole Whips. And those are our people.
Now, in the most exciting news ever to hit the airwaves, Dole Whips will now be packaged and available in grocery stores worldwide so that everyone can enjoy the perfect, dairy-free snack from the comfort of their own home.
The announcement came straight from Dole, who shared that everyone's favorite tropical frozen treat will be hitting the frozen food aisle "sometime" in 2023 — and that they'll come in three favors: mango, strawberry, and, of course, pineapple.
Dole said in the release that the whips are part of achieving the Dole Promise: "crafting great-tasting products without processed sugars, increasing access to fruit-based nutrition, decreasing food waste, working to reduce plastic and carbon emissions, and growing value for all Dole partners."
They also said that the Whips are just one of 11 new food products launching under the Dole Promise. Other offerings will include Dole Good Crunch dried fruit snacks, three new Dole juice offerings, Dole Wiggles fruit gel snacks, and Dole Smoothie Bowls.
Will Dole Whips taste as good as they do on a sunny day with your family in the Magic Kingdom? Probably not quite exactly as good. But it's probably close enough.
And if you don't have a soft serve ice cream machine (like most people), no fear! There are several ways you can make it without one, including with your ice cream maker or blender. You just won't get that classic swirl.
Dole Whips have taken the world by storm since they were invented in the 1980s after they became a sponsor of Walt Disney's Enchanted Tiki Room. The company originally served vanilla soft serve with pinapples on top until food scientist Kathy Westphal came up with the non-dairy, more heat-resistant Dole Whip in 1983.
"It cracks me up that Dole Whip is a big deal now which is kind of fun," Westphal told SF Gate. "I think it's great; it's a treat. My brother always tells everyone that his sister gets to eat for a living, and it's great giving pleasure to people."
Over the years, Disney-goers have been treated to not only Dole Whips, but also fun plays on the classic treat, including limited-time Dole Whip flavors, boozy Dole Whips, and Dole Whip ice cream sandwiches (um, also with booze).
Can not, will not wait to try this at home as soon as possible.