Padma Lakshmi Bluntly Responds To A Troll Who Said She Had "Fat Arms"
Lakshmi posed for the 2023 'Sports Illustrated' Swimsuit Issue.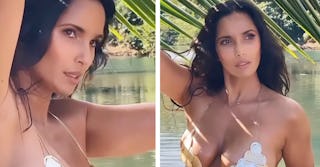 Instagram / @padmalakshmi
Posing for the Sports Illustrated Swimsuit Issue is probably one of the coolest and biggest milestones in a model's career. Over the years, SI has worked on inclusion and representation of all bodies including 81-year-old celebrity Martha Stewart, LGBTQIA icon Kim Petras, and plus size model Yumi Nu.
However, the popular publication also stays the course and makes sure the issue is also filled with more "typical" model types like TV host Padma Lakshmi. Lakshmi is unquestionably gorgeous, and that still doesn't save her from trolls commenting on her body.
Lakshmi, 52, clapped back at a troll commenter that had said she had "fat arms" and that she should "lift weights."
The celebrity chef and mom posted a behind-the-scenes video of her Sports Illustrated Swimsuit Issue shoot and captioned the clip, "This is me. I wouldn't go back to my 20s if you paid me all the money in the world."
Lakshmi told Sports Illustrated, "I was a little bit freaked out because I knew that I couldn't get as tight and lean as I could if I had some more time," she said. "But then I just looked in the mirror, and I reminded myself, I'm not here because I'm the world's greatest model. I'm here because I'm me. I'm not getting this in my 20s. I'm getting this now, at this point, and it's so much sweeter because I'm doing it now."
"It shows women everywhere that your femininity and your sex appeal and your beauty is not something that stops at a certain age," she shared.
"The one thing I would say for young women looking at this is don't worry about aging," she said. "Don't worry about a clock. Be on your own clock."
After an absolutely breathtaking video set to "Sunday Kind Of Love" by Etta James went viral, a troll commented on Lakshmi's video saying she needed to "lift weights" for her "fat arms."
To that, Lakshmi gave a nice, simple f*ck you.
"Somebody commented yesterday on my Instagram that I had fat arms and needed to lift weights," Lakshmi says to the camera while cooking in her kitchen.
"Do you have anything to say to them?" the person filming asks.
Instead of launching into a lecture about body neutrality or a speech about how every body is beautiful, Lakshmi kept it quiet and simply gave the camera a nice, quick middle finger.
While, of course, several thousand people commented about how stunning Lakshmi actually is, like most humans, the negative comments always stick out more even if it's just one out of a thousand.
As Lakshmi continues into another year in her new decade of life, she spoke to SI Swimsuit about how getting older has shifted her views on her body, appearance, and life in general, reiterating that she would never go back to her 20s if you paid her.
"My thighs may have been leaner, and my boobs were probably slightly higher in earlier parts of my life, but I have never felt better about myself. I hope they see a full woman in all my facets and nuances and some contradictions. I wouldn't go back to my 20s if you paid me all the money in the world," she said.
She also wants others to know that "sometimes a whole new phase that's even more exciting than anything you've ever experienced before can happen well over 40."
"I love where I am in my life and know my body is not perfect by any means, but I feel beautiful," she added to the outlet. "I feel like I have a very lucky, fruitful, productive life."