Pink Sweetly Changed Her Famous Lyrics About Britney Spears At A Show
The sweet change comes as Spears navigates her divorce.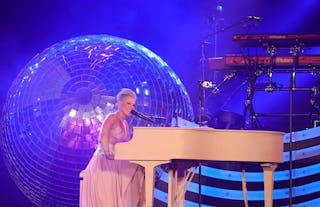 Kevin Mazur/Getty Images Entertainment/Getty Images
Pink and Britney Spears came up into the world of pop stardom at around the same time in the mid-90s — and they've both had lots of ups and downs throughout their careers. Now, though, a solid 25 years into the game, a relationship that has at times seemed a bit contentious or strained has turned sweeter, thanks to another little olive branch offered by Pink on stage.
This weekend, during her Summer Carnival Tour, Pink was singing her 2011 hit single "Don't Let Me Get Me" in Detroit when she made the slightest — but most meaningful — tweak to the lyrics.
Instead of singing the original line "Tired of being compared to damn Britney Spears / She's so pretty / That just ain't me," she changed it to: "Tired of being compared to sweet Britney Spears / She's so pretty / That just ain't me."
It was the first time during the tour that she sang this particular song, which she performed while sitting on a stool accompanied by a single guitar.
The audience responded with lots of "awwwws" and cheers.
While Pink hasn't spoken about why she changed the lyric, it seems very related to the recent news that Spears and her husband, Sam Asghari, are getting divorced after 14 months of marriage. Asghari filed for divorce at the end of July citing "irreconcilable differences" and asking for spousal support.
"As everyone knows, Hesam and I are no longer together," she wrote on Instagram on Saturday. "Six years is a long time to be with someone so, I'm a little shocked but … I'm not here to explain why because its honestly nobody's business."
While Pink has said that she and Britney haven't been in touch, the two share a lot in common and when they've met in the past, like for the 2004 Pepsi Super Bowl Commercial, they've gotten along.
On Bravo's 'Watch What Happens Live,' in 2021, when Britney was fighting against her family's conservatorship, Pink admitted that, "I wish I could've reached out and given her a hug."
And she's tried to get word out there in the past that those lyrics aren't meant to be a dig on Spears.
"People think I was picking on Britney on 'Don't Let Me Get Me,' but I've always felt like a big sister to her. I'm very protective of her, and she's the sweetest person in the world," Pink told People magazine earlier this year. "I wish her well. I cover her in light all day long."
Here's another look at the song and the lyric change from this weekend.