Pink Revealed What She Said To Her 6-Year-Old Son After He Was Called A "Girl"
This is such a good answer.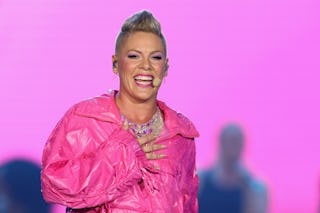 Christian Petersen/Getty Images Entertainment/Getty Images
Pop singer Pink is no stranger to going against the grain of what's "typical parenting." And so much of the time, it seems like she's doing parenting right when it comes to helping her kids be themselves, deconstructing gender norms and supporting her daughter and son the best way she knows how.
Most recently, she knew the exact right thing to say when 6-year-old Jameson Moon was teased at school for having long, blonde hair.
After she revealed that her son was venting to her about how "everyone" calls him a "girl," she reshaped his perspective and helped him understand that his appearance has nothing to do with his gender.
"With my son, this was a seminal moment: He's like, 'Mom, everyone calls me a girl,'" Pink explained in a recent interview with The Los Angeles Times. "And I'm like, 'That's because you have long hair, buddy, and people are still hung up on these really old-fashioned societal norms.'"
She shares son Jameson and 12-year-old daughter Willow Sage with husband Carey Hart.
The "Who Knew" singer then related to her son in that moment by sharing her own situations of being misunderstood because of the way she looks, reiterating that despite people's opinions or first impressions, she doesn't care.
"I told him people call me 'sir' all the time, especially from behind and especially at airports," she continued. "And he looked at me and was like, 'Really?' I said, 'Yeah. I don't care. Call me 'sir,' call me whatever, just stay out of my way."
"He liked that," the mom of two said. "And now he gets called a girl and he just looks at me and winks."
This moment is just an addition to the laundry list of moments where Pink shined as a mom to her kids.
Earlier this year, Pink shared her strict household rules on screens and social sharing. The 43-year-old singer revealed in a radio interview that her daughter doesn't have a cellphone.
"My kids don't have a phone," she said. "And my daughter is the only 11-year-old in her class that doesn't have one."
"It's hard," she went on. "A lot of my friends, they have their kids on TikTok, and I don't. I told Willow, 'That just doesn't move my needle. They're not my kids. You're my kid."
The "So What?" singer then revealed her one condition that Willow has to meet if she wants to have a cellphone of her own and start using social media.
"I told her, point blank, 'If you can produce literature from a reputable source that tells me that social media is good for you, then you can be on it. Otherwise, good luck.'"