Watch Pink's Daughter Willow Stun At Her Mom's Arena Show
The 12-year-old sang "Cover Me In Sunshine" to an uproar of applause.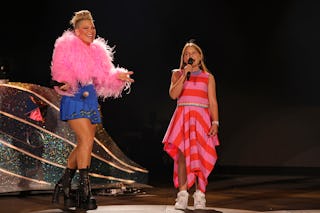 Kevin Mazur/Getty Images Entertainment/Getty Images
The world has gotten a few glimpses of just how talented Pink's daughter, Willow Sage, is. But on Wednesday night, the 12-year-old took it to a new level by opening her mom's new tour by singing solo. And the crowd absolutely loved it.
Pink began her Summer Carnival tour in the United Kingdom, and joined her daughter in singing "Cover Me In Sunshine" after her daughter kicked off the song. The pair also duet on the recorded track of the tune.
Proud dad Cory Hart shared a fan video from the event on Instagram, along with the warmest message.
"So proud of Willz to get up on stage w/ mama @pink !!!!! Must be a surreal moment for mama to have w/ her lil girl on stage 😢. Looks like 1st show of the tour kicked ass!!!!! Can't wait to catch up end of this month and see for myself. Summer is grind time ✊🏻✊🏻✊🏻."
At the end of the video, Pink approaches her daughter and is visibly moved. She gives her kid a big hug before the show goes on.
In February, Pink opened up to TODAY about how Willow would be joining her on tour, and that she took it as an opportunity to help her daughter learn how to negotiate a fair salary.
"Willow has a job on tour," Pink said. "We just had to go over minimum wage and it's different state to state. I said it's about $22.50 a show depending how long I go, if I run over. She goes, 'I'll take $20. it's easier to do the math.' I'm like 'That's not how you negotiate for yourself.' I'm like, 'You'll take $25 so it's easier math."
It's not clear if singing is her only job on the tour or if she's also part of the crew, but whatever the case, it seems like she's definitely earning at least minimum wage with her performance.
This isn't the first time Willow has showed off her impressive pipes.
In December, Pink shared an incredibly adorable video of Willow singing "The Rose Song" by Olivia Rodrigo. Even though the venue was much more "elementary school talent show" than "sold out arena show," her voice is clear and powerful — and super impressive!
Pink's Summer Carnival tour, which is in support of her ninth album, Trustfall, is sweeping through Europe in June and July before returning for dates in the United States in August. It's not clear if Willow will perform each night, only some nights, or if this was a one-time appearance.
Pink and Hart also share 6-year-old Jameson Moon; no word on whether or not he might pursue the paths of one of his talented parents yet.