Pregnant Woman With Taylor Swift Tickets Polls TikTok To See If She Should Sell Them
She is 34 weeks along with a high-risk pregnancy. But also she's a Swiftie.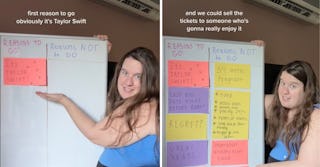 TikTok / @teammiyares
So many Taylor Swift fans lost out when it came to the exhausting battle that was trying to get tickets to The Eras Tour. Since the announcement of the tour — her first in four years — tickets have been near impossible to get unless you're willing to shell out literally thousands of dollars.
Taylor Swift's ticket issues were so catastrophic that Ticketmaster's practices were called into question by Congress.
Since that fateful day in December, ticket prices have steadily stayed around the $1,000+ range for nosebleeds, with fans either waiting for prices to drop day-of or just cutting their loses and enjoying Swift's show from outside the stadium.
The demand for Taylor Swift tickets has not eased, which is why one very pregnant woman is wondering if her lower bowl tickets are worth selling considering her condition.
Gina Miyares can't seem to land on a decision when it comes to whether or not she should sell her Taylor Swift tickets, so she decided to make a pro/con list and take TikTok along for the ride.
"Should I sell my Taylor Swift tickets? I need your help. I never thought I'd be someone to make this video, but I'm almost 34 weeks pregnant," she begins.
Her first reason to go states the obvious — it's Taylor freaking Swift.
Secondly, she notes that since she is so far along in her pregnancy, this could be the last date night she and her husband, Josh, have for quite some time.
She also hilariously wonders, "If I sell the tickets, will I regret it for the rest of my life?"
Miyares continued on, noting that she was in the trenches trying to get Taylor Swift tickets and lucked out with amazing seats in the third row of the lower bowl at Gillette Stadium in Foxborough, MA. Those seats are truly worth gold.
Her husband has also never had the great pleasure of seeing Swift perform live which she also lists on the "Reasons To Go" column.
Next, Miyares moved on to the "Reasons Not To Go" column.
"For those of you who are new here, our baby is due in June and she does have spina bifida and hydrocephalus. I know there's a bunch of Swifties out there who have gone to her concerts pregnant, but this is what you should know about me," she says.
"Even when I'm not pregnant, I am tired all the time and pregnancy has made it so much worse."
She explains that her pregnancy has made her tired 24/7 and suffer from pelvic pain due to her daughter's head "measuring off the charts."
She also notes that, in her opinion, Gillette Stadium has uncomfortable seats for anyone let alone a pregnant person. Other "Reasons Not To Go" include parking fiascos, traffic, and the urge to pee constantly.
Lastly, Miyares notes that her doctor told her that due to her condition, that there's a chance she could go into labor a bit earlier.
"They believe it's likely we could go into labor between 34 and 36 weeks. So like now, anytime now," she says.
Lastly, Miyares notes that she could sell the tickets to a true Swiftie who will get the most out of the concert, compared to her pregnant self who would most likely leave early.
"And we could sell the tickets to someone who's going to really enjoy the whole concert because the likelihood of me leaving early is high," she says.
"Like 100% high. Probably be there a couple hours," her husband chimes in.
Her video quickly went viral — gaining over 1 million views in less than 24 hours — with thousands of TikTok users weighing in on Miyares' dilemma.
Several users quick to come up with compromises to her situation.
"Go in late, skip the opening acts and only see Taylor," one user wrote.
"try reach out to taylor nation and see if you can trade your seats for ADA/accessible seating! tell them you have a high complication pregnancy & they might be able to accommodate you with special seating so you'll be seated in a safer area that's easier to leave incase u need to!" another wrote.
"you're super close to hospitals. bring a chair cushion or two, have josh drop you by the door and then go park, skip openers... have fun and enjoy!" another recommended.
"that's a good point but the traffic around Gillette is gonna be crazy and she needs brain/spine surgery as soon as she's born in Boston," Miyares replied.
Other TikTok users begged Miyares to sell the tickets (to buy them off her) or advised her to sell to cash in on a giant resale payday. The cheapest ticket for Friday night's show at Gillette Stadium is currently listed on StubHub for $2,368.
"Sell em for more than you bought them for and then have your own concert in the living room!" one user wrote.
One user wants Miyares to learn from her mistakes and commented, "When i was 38 weeks pregnant with my son (who was born at 42.5 weeks) i went to a small venue concert. And was miserable the whole time!"
"Honestly I would. There will be other chances for you to see her live. Personally there are too many negatives that the positives aren't that great," another wrote.
Miryares must still be mulling over the decision because she hasn't updated her TikTok since her post yesterday.