How To Wash Taylor Swift's Eras Merch So You're Not Left Seeing Red (On Your Clothes)
Hi. The problem's not you this time. It's the merch's vintage look.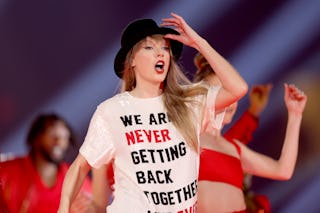 Omar Vega/TAS23/Getty Images Entertainment/Getty Images
Taylor Swift's Eras merchandise has left some fans feeling like there's bad blood between them and their favorite pop star — on Twitter and TikTok, they're sharing photos and videos featuring their brand-new shirts fading or bleeding ink after just one wash. The situation has gotten so bad that, on April 5, the official Eras website posted a statement warning fans about the issues. Already bought a shirt? Don't stress; there are ways to wash Swift's Eras merch that will minimize damage not only to you and your tween's new favorite sweatshirt (because they're definitely sharing!), but also to the rest of your clothes.
According to fans, the primary issues with the shirts and sweatshirts are fading and bleeding. However, some have also reported receiving merchandise with holes and stains. If you have an item that's clearly defective or unwearable after washing, Swift's team has said they will try to make it right if you email them at taylorswift@umgstores.com.
The official statement on the website reads, "Due to the particular ink curing process used on certain Tour Collection products, after washing your merchandise you may see a faint fade on the product print. This slight fade is related to the product's distressed, vintage look. Please also note it is important to follow product care instructions as listed on the product label when washing and drying your items to best protect and maintain the product's look and feel."
However, if "you notice a dramatic loss of pigment or ink bleeding on your product," you should contact the shop for a replacement. Haven't washed your coveted Swift Eras t-shirt yet? Read on for how to keep it looking fresh (and avoid any lavender haze bleeding onto the rest of the laundry).
Should you trust the Eras Tour merch washing instructions?
You're a mom. You know how to read a label and are likely well-versed in protecting your kid's favorite clothes for as long as possible. With that in mind, the label on Swift's merch will only get you so far.
Despite the fading and bleeding issues, the labels appear to have fairly standard directions: no bleaching, wash with like colors, etc. If you want to preserve the expensive merch, you'll have to get creative. Here's what you should know before washing that $45 tee your tween or teen begged you to buy:
The red and blue items are reportedly the most prone to bleeding ink, so don't wash them with your other clothes.
Most of the items feature screen prints on the front or back that become distressed after a normal wash. Turn them inside out to protect them a little longer.
Skip the dryer. While the care instructions say it's fine to tumble dry most items on low, the heat is likely to increase the chances of the shirts looking "vintage" faster.
What's the best way to wash the Eras Tour merch?
Given how much the items cost and how dedicated Swift fans are, it makes sense to treat the sweatshirts and t-shirts as special clothing items and wash them as gently as possible — especially if you or your kid aren't a fan of the vintage fade the designers say they were going for. Thankfully, the internet is coming through with some merch-saving tips:
Without "Heat-Treating"
Reddit user goodgonegirl1 previously offered tips on how to wash Swift's merch — because this isn't the first time fans have complained. Their advice is sound. The Redditor suggests washing merch alone with Woolite Color Guard and turning anything with a screen print inside out. Wash items on delicate with cold water.
If you want to be extra cautious, skip the dryer and hang dry items immediately after washing. Additionally, if you don't want to run a whole wash for one item, try hand washing it in cool water, then hang it up to dry.
One TikTok user showed off their care tips and suggested setting your dryer to a short wash cycle (so the merch doesn't sit in water long) on the coldest setting possible.
With "Heat-Treating"
If you dropped a small fortune on merch and want to do everything in your power to try to keep it from fading, you might have to spend a little extra time on prep. Many fans have explained on TikTok that the key to preserving the Eras merch integrity is to place parchment paper over any screen-printed areas, then iron on top of the parchment paper on high for three to four minutes.
After removing the parchment paper and letting the clothing item cool, you'd then follow the suggested washing steps: turn the merch inside out, wash alone in cold water, and dry to your preference (in the wash if you're brave, air-dry if you're still paranoid). And, for what it's worth, a comment on TikToker Erica Gabriel's video gave the heat-treating method an expert thumbs up, saying, "Former screen printer here, yes, this will help cure the ink if it was under cured. Would recommend."
While having to treat a t-shirt like it's an evening gown is frustrating, the extra care will go a long way in ensuring Swift's Eras Tour merch lasts longer than the 10-minute version of "All Too Well."